Best Connected Device and Wearable Tech
This category recognises the best Connected Device and Wearable Tech
Nominations in Category
Best Connected Device and Wearable Tech

b2cloud worked with Telstra to create two world-first Google Glass apps. Designed for the visually and hearing impaired communities, the apps use groundbreaking technology to help users become more independent in their personal and professional lives. The vision-impaired app enables users to receive audio descriptions of objects in front of them and The hearing-impaired app transcribes speech for people who have hearing difficulties, allowing them to follow the conversation using Google Glass.
Best Connected Device and Wearable Tech
The AFL Live app for Pebble is a market first – a live sports app for a wearable device, providing footy fans with match day information and scores anywhere, anytime on their Pebble watch. It also features a vibrate on goal option to ensure users can be alerted when their team scores, all whilst on the go. This app leads the way for a diverse range of applications for wearable technology, with a focus on expanding the sports entertainment experience and engagement with fans.
2014 Presentation
Photo Gallery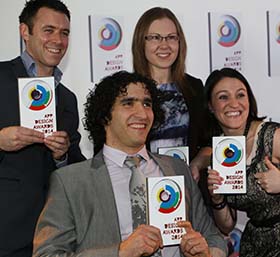 Don't forget to tag yourself, friends and colleges in the photos.
Best Of Categories
All entries submitted are automatically eligible for the relevant "Best of" category.