Best Audience Migration to Mobile Technology
This category recognises migration of an audience from a traditional media to a mobile platform.
Nominations in Category
Best Audience Migration to Mobile Technology

Domain.com.au is one of the largest property portal in Australia with most comprehensive mobile products offerings. Our mobile site and apps are very functional with fantastic on-the-road tools that help our users with their property hunting and inspections. With Domain traffic from mobile devices now surpasses the desktop traffic, our audience have definitely migrated to mobile technology.
Best Audience Migration to Mobile Technology
Bathurst Real Estate tenants now have all the information and forms they need at the tips of their fingers with the Bathurst Real Estate Property Management app. The app gives tenants the ability to complete and submit maintenance requests, direct debit requests, residential applications and intention to vacate notifications directly from their phone or tablets. It also gives them easy access to property manager contact details and the preferred suppliers for all home repairs and maintenance.
Best Audience Migration to Mobile Technology
Kindy allows parents to find the best local nannies and babysitters, through a beautifully designed and intuitive mobile app. Our innovations such as real time background checks, nanny sharing, and easy search filters create trust, affordability and convenience, taking the stress out of finding quality child care.
Best Audience Migration to Mobile Technology
realcommercial.com.au's iOS app and mobile site puts every property on Australia's leading commercial property site in the hands of anyone with an Android or iOS device. Offering all the search functionality of realcommercial.com.au in a simple, user-friendly interface, our mobile site and iOS app save time and make it easier for individuals and businesses to buy, sell or lease commercial property. In an Australian first, our new iOS app also offers property industry news, analysis and guides as well as comprehensive listings. Visits to realcommercial.com.au via mobile devices now account for 44% of total visits to the site.
2014 Presentation
Photo Gallery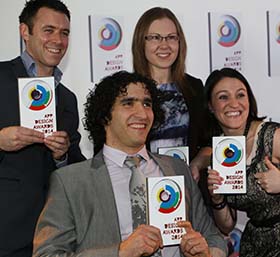 Don't forget to tag yourself, friends and colleges in the photos.
Best Of Categories
All entries submitted are automatically eligible for the relevant "Best of" category.