Best Mobile Marketing Campaign
This category recognises campaigns that use elements such as competitions, promotions & messaging to engage customers on the mobile channel exclusively.
Nominations in Category
Best Mobile Marketing Campaign
Trade painters have relatively low levels of usage with mobile technology. Valspar ANZ, seeking to assist trade painters become more confident with technology and understand the benefits it can provide, created an App centric campaign which incentivised participation. Each interaction with the campaign accumulated points and increased the painters chances of winning a once in a lifetime trip experience. These interactions were designed to accelerate product trial, knowledge and endorsement. This campaign was delivered via an App, website and mobiDdiction's consumer engagement platform "mobiConnect".
Best Mobile Marketing Campaign

April 25th 2015 marks the 100th anniversary of the ANZAC landings at Gallipoli. Our task was to get Australians aware and involved in this important date, and to get 10,500 registrations to fill the places at Gallipolli to pay their respects to the brave men and women that have served their country. Results were outstanding. Due to demand, the campaign had to finish 1 month prior to the proposed end date as all spots were filled up; with mobile playing a considerable role, driving 20% of total sign ups.
Best Mobile Marketing Campaign
The Yates My Garden Mobile app is the world's most comprehensive interactive guide to gardening. The multi platform app provides gardening pros and enthusiasts with everything they need to design, grow and manage their perfect garden, featuring an Augmented Reality Garden Visualiser with a wide selection of virtual plants. The app steps the user through the garden life cycle; finding inspiration, designing, planning, planting, growing, managing and solving pesky problems that stop the garden from thriving. The app is available on iPhone, iPad and Android; integrated with Social Media and Yate's Garden Club community.
Best Mobile Marketing Campaign
The innovative Her campaign saw voice activated technology applied to mobile banner ads for the first time. The creative is an example of a new way in which brands can interact with audiences more meaningfully, with touch and speak functions eliminating the need for users to rely on keypad menu options, and instead use the most natural engagement process known to mankind – conversation. Using cutting edge technology developed by the voice technologists at Nuance, combined with Mobile Embrace's rich ad formats, the campaign took standard creative to a new level, creating the ultimate audio-visual experience. To maximise campaign relevancy, Mobile Embrace placed the ad unit in highly targeted and contextual publisher environments, such as IMDB. Over the campaign period (19th May – 15th June), Her generated over 5,500,000 page impressions and over 8,000 clicks.
Best Mobile Marketing Campaign
One mobile campaign generated 63 responses that resulted with 21 new gym memberships. Cost of campaign? A little over $150. How Genesis Charlestown did it? Utilising MOBIPOST's two-way communication platform.
Best Mobile Marketing Campaign
SendaScript is creating freedom for consumers, solving the arduous task of medication supply. It's a mobile ordering & retailing platform where customers are connected to open pharmacies anywhere, any-time. The company implements a recognized solution in removing the cash register & the sales cue, giving a customer the choice of saving time & avoiding the frustration of in-store transactions.
2014 Presentation
Photo Gallery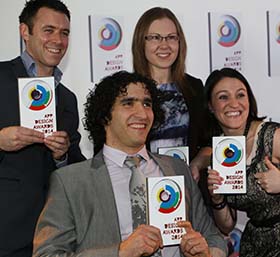 Don't forget to tag yourself, friends and colleges in the photos.
Best Of Categories
All entries submitted are automatically eligible for the relevant "Best of" category.