Productivity Apps
This category recognises applications that aid and facilitate productivity such as notes, diaries, schedulers, data entry and spreadsheet apps.

Nominations in Category
Productivity Apps
Easy First Aid is a powerful First Aid Record Keeping and Treatment Tool. A truly mobile and powerful way to capture and record incident details and subsequent treatment. Never again will you need to keep extensive and confusing paperwork.
Productivity Apps
HR tasks don't need to be painful, onerous and boring. Our Experience Designers spoke to staff from across the business to find out what they wanted from HR. It supported corporate analysis that the 3 primary HR tasks that frustrate staff were submitting leave, time-sheets and accessing their payslips. For managers it was approving leave and time-sheets. Of particular concern are our front-line staff, many do not have easy access to desktops to complete these tasks. Our backend processes haven't changed but we have completely re-imagined how our staff have to interact with them for mobile.
Productivity Apps

Photograph and identify any brake pad with your mobile phone! Developed for mechanics, brake fitters and DIY car enthusiasts, the Bendix Brake Pad Identifier app accurately identifies any brake pad within seconds. If you spend too much time searching through catalogues to identify brake pads only to have the wrong parts delivered, this app is the only solution for you. Simply take a photo of a brake pad and the image recognition software will instantly find part numbers that best match your photograph. Quick and easy to use, this app will save you time in your busy workshop.
Productivity Apps
Teamstuff is an award winning, free mobile and web app for social sports teams that helps them to communicate and manage important team stuff like schedules, game details (with maps!), attendance, rostering, duties, contacts, emergency medical info and more. It lightens the workload for managers & coaches, makes scheduling clearer for parents and players with multiple schedules, works for all varieties of family and lets the whole team focus on the important stuff – the game itself. Less work, more play!
Productivity Apps
The Toolshed is an all-in-one business productivity tool covering all aspects of Australian Workplace Health and Safety legislation. It has been designed to eliminate and streamline the day to day processes of meeting the Australian legislations.
Productivity Apps
The Yates My Garden Mobile app is the world's most comprehensive interactive guide to gardening. The multi platform app provides gardening pros and enthusiasts with everything they need to design, grow and manage their perfect garden, featuring an Augmented Reality Garden Visualiser with a wide selection of virtual plants. The app steps the user through the garden life cycle; finding inspiration, designing, planning, planting, growing, managing and solving pesky problems that stop the garden from thriving. The app is available on iPhone, iPad and Android; integrated with Social Media and Yate's Garden Club community.
Productivity Apps
TIKS Pre-Start is an innovative Australian-designed iOS, Android and web application that revolutionises industrial health and safety documentation and reporting in the workplace. TIKS Pre-Start complies with WHS Acts, and provides front-line workers with super-fast, up-to-date information, and the ability to report health and safety issues on-site. It also allows managers to drastically reduce paper documentation, vastly increase efficiency and greatly improve safety in the workplace. With its amazingly intuitive user interface, TIKS Pre-Start is becoming a must-have application for any business wanting to take health and safety seriously, while at the same time turbo-charging productivity, efficiencies and profitability.
2014 Presentation
Photo Gallery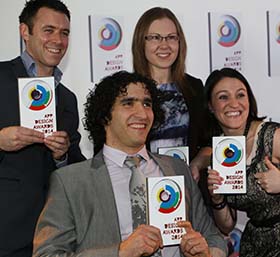 Don't forget to tag yourself, friends and colleges in the photos.
Best Of Categories
All entries submitted are automatically eligible for the relevant "Best of" category.