Retail & Shopping
This category relates to applications that have been developed to promote retail shopping.
Nominations in Category
Retail & Shopping

SendaScript is creating freedom for consumers, solving the arduous task of medication supply. It's a mobile ordering & retailing platform where customers are connected to open pharmacies anywhere, any-time. The company implements a recognized solution in removing the cash register & the sales cue, giving a customer the choice of saving time & avoiding the frustration of in-store transactions.
2014 Presentation
Photo Gallery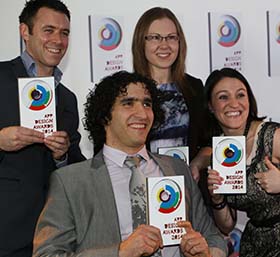 Don't forget to tag yourself, friends and colleges in the photos.
Best Of Categories
All entries submitted are automatically eligible for the relevant "Best of" category.