In Field Services
This category relates to applications developed in order to aid and facilitate organisations requiring mobility whilst out of the office.
Nominations in Category
In Field Services
HR tasks don't need to be painful, onerous and boring. Our Experience Designers spoke to staff from across the business to find out what they wanted from HR. It supported corporate analysis that the 3 primary HR tasks that frustrate staff were submitting leave, time-sheets and accessing their payslips. For managers it was approving leave and time-sheets. Of particular concern are our front-line staff, many do not have easy access to desktops to complete these tasks. Our backend processes haven't changed but we have completely re-imagined how our staff have to interact with them for mobile.
In Field Services

CivilWorks: Part of Your Civil Construction Team CivilWorks makes on-site calculations easy! From sewer main to drainage construction calculations, road and subdivision formulas, volume calculations and more. CivilWorks contains fundamental civil construction formulas to perform on-site mathematical calculations. A must-have for construction workers, CivilWorks is perfect for getting your on-site civil construction and civil engineering calculations correct every time! Stop costly reworks and delays with real-time job tracking for civil engineering management. CivilWorks is simple to use and helps get your jobs done fast and on budget.
In Field Services

TIKS Pre-Start is an innovative Australian-designed iOS, Android and web application that revolutionises industrial health and safety documentation and reporting in the workplace. TIKS Pre-Start complies with WHS Acts, and provides front-line workers with super-fast, up-to-date information, and the ability to report health and safety issues on-site. It also allows managers to drastically reduce paper documentation, vastly increase efficiency and greatly improve safety in the workplace. With its amazingly intuitive user interface, TIKS Pre-Start is becoming a must-have application for any business wanting to take health and safety seriously, while at the same time turbo-charging productivity, efficiencies and profitability.
In Field Services
Digitalinc are the developers of an innovative software platform designed to enhance the productivity of mobile sales or service teams. Digitalinc strives to maintain an innovative position within the mobile business app's market place through its industry leading mobile productivity app, ARISapp
In Field Services
Whether you're building a skyscraper, a bridge, an underwater tunnel, or an oil rig; you need the most current design and construction drawings right there in your hands.. not back in your office. Up until now though, those docs have only been available onsite in hardcopy (aka paper) with all the issues that entails. Aconex Mobile bridges this gap between where the info is and where it's actually needed, ensuring you always have access to the most up to date data required to keep your project on track (and to stop it from literally falling over).
In Field Services
MYOB PayDirect makes it easy for small and micro businesses to manage their invoices and take credit card payments on their smart phone using an iOS or Android mobile app and a secure 'Chip and PIN' payment device. MYOB PayDirect is fully integrated into MYOB cloud accounting, so that users can access their customer details, product items and relevant tax codes in real-time when they're creating new invoices or taking payment. This integration eliminates data-entry and date-entry errors by eliminating free-text entry of key accounting data and by automatically posting invoice and payment details through to cloud accounting in real time.
In Field Services
Mnet is proud to represent 'INCSnap' (Incident Snap); a native iOS application and digital asset management solution designed for Queensland Fire and Emergency Service (QFES) and other State Emergency Services to manage real-time critical information related to emergency response incidents. Designed and delivered in just six weeks the solution has been extremely successful in operation and has been expanded and formalised as a primary tool in incident response and has been rapidly adopted by other services and states. Most recently in Cyclone Ita, INCSnap was the sole source of quality imagery and reliable data during the initial response phase. It has been credited with informing QFES response coordination, the Premier, the public and helping save property and lives.
2014 Presentation
Photo Gallery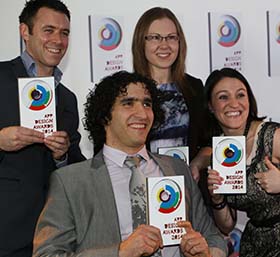 Don't forget to tag yourself, friends and colleges in the photos.
Best Of Categories
All entries submitted are automatically eligible for the relevant "Best of" category.