Television/Movies
This category relates to applications that promote television and the digital living room.
Nominations in Category
Television/Movies

It is every sports fan's dream to be part of the game, but unless you are a player it is almost impossible to gauge the true power and precision of professional sport. We transformed the tennis viewing and TVC experience with a world first App; Game On – turning viewers smartphones into virtual tennis racquets. We gave armchair athletes the chance to feel what it is like to be on court, returning the world's fastest serves, and in doing so, demonstrate Kia's innovation credentials. Our App exceeded all expectations, and we have a patent-pending technology!
2014 Presentation
Photo Gallery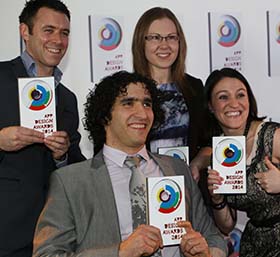 Don't forget to tag yourself, friends and colleges in the photos.
Best Of Categories
All entries submitted are automatically eligible for the relevant "Best of" category.