Medical
This category relates to applications that provide or promote a medical service or information.
Nominations in Category
Medical
NPS MedicineWise identified that many Australians are hospitalised each year due to medicine mishaps that could easily be prevented. To address safer medicine use, the free MedicineList+ app for iPhone and Android was developed. This app provides individuals and carers, with a simple and easy way to manage medicines, set medicine reminders and get access to up-to-date medicine information.
Medical

The Alfred Intensive Care Unit (ICU) waiting room application; a new model of consumer engagement The focus was to: • Prepare a patient's loved one for what to expect in the ICU • Provide information about the ICU, its staffing, ICU procedures and therapies • Empower the patient's loved ones to participate in patient care • Provide information 24 hours a day in an easily accessible, user friendly, interactive and innovative way, allowing users to determine what information they read, when they read it, and to revisit the information as many times as needed. • Easily change and update the application in response to feedback from families and clinicians, keeping it current and effective.
Medical
SendaScript is creating freedom for consumers, solving the arduous task of medication supply. It's a mobile ordering & retailing platform where customers are connected to open pharmacies anywhere, any-time. The company implements a recognized solution in removing the cash register & the sales cue, giving a customer the choice of saving time & avoiding the frustration of in-store transactions.
Medical
Since 1999 the Better Health Channel has helped Australian's achieve the best possible health and wellbeing through various stages of life. The website provides clinical quality assured health information and over the past 12 months has assisted over 40 million people on their health journey. This success extends to the mobile domain, with previous iOS versions of the BHC app receiving great consumer and industry acclaim - including awards at the 2012 and 2013 mobies. The V3 app extends health information access to Android users and provides an improved user experience for iOS users through a design and feature update.
Medical
We created a storybook app which doubles as a screening tool. This can be operated by any adult, without previous training. As a screening tool for children, the app is more accurate, faster to operate and far more engaging than any previous One Sight method. It can also be downloaded by any child care worker to operate a OneSight quality screening anywhere in Australia.
Medical
With more people going to emergency departments with conditions that could be treated in the community, our aim was to help people get the right level of care closer to home by knowing the local alternatives at the click of a button. This simple-to-use, real-time health app shows what medical care is open 'right now' and accepting new patients, along with information on whether a clinic bulk bills, can suture a wound, run pathology tests or X-ray a sporting injury, and how far it is to drive or walk there – all the information people told us would influence their decision to go to hospital or not.
Medical
This app is a recommended academic text for anyone studying to be a paramedic in Australia and New Zealand. It provides the critical facts, dosage ranges, indications and side effects of the common drugs that paramedics give patients in Australian Ambulances. This information can help paramedics to make the right decision quickly and save lives.
Medical
The Northern Melbourne Medicare Local is helping users find the right medical treatments. It educates the community about after hours GP locations, and the services they provide and when. The GP Finder app is a fast and accurate way to locate clinics that are open at night and weekends. The app also includes listings of clinics that are accepting new patients and more.
2014 Presentation
Photo Gallery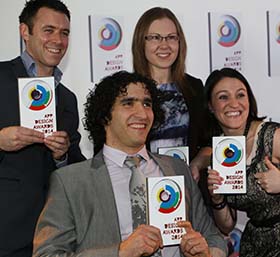 Don't forget to tag yourself, friends and colleges in the photos.
Best Of Categories
All entries submitted are automatically eligible for the relevant "Best of" category.