Line of Business
The category relates to applications that aid productivity in Line of Business.
Nominations in Category
Line of Business
HR tasks don't need to be painful, onerous and boring. Our Experience Designers spoke to staff from across the business to find out what they wanted from HR. It supported corporate analysis that the 3 primary HR tasks that frustrate staff were submitting leave, time-sheets and accessing their payslips. For managers it was approving leave and time-sheets. Of particular concern are our front-line staff, many do not have easy access to desktops to complete these tasks. Our backend processes haven't changed but we have completely re-imagined how our staff have to interact with them for mobile.
Line of Business

MYOB PayDirect makes it easy for businesses to manage their invoices and take credit card payments on their smart phone using an iOS or Android mobile app and a secure 'Chip and PIN' payment device whilst on the road. MYOB PayDirect is fully integrated into MYOB AccounRight, so that users can access their customer details, product items ain real-time when they're creating new invoices or taking payment. This integration eliminates data-entry and date-entry errors by eliminating double entry of key accounting data and by automatically posting invoice and payment details through to AccountRight in real time.
Line of Business
Photograph and identify any brake pad with your mobile phone! Developed for mechanics, brake fitters and DIY car enthusiasts, the Bendix Brake Pad Identifier app accurately identifies any brake pad within seconds. If you spend too much time searching through catalogues to identify brake pads only to have the wrong parts delivered, this app is the only solution for you. Simply take a photo of a brake pad and the image recognition software will instantly find part numbers that best match your photograph. Quick and easy to use, this app will save you time in your busy workshop.
Line of Business
Dotgain is an online cloud based tool that has been developed to drive greater business performance by creating smarter and more efficient workflow practices for creative agencies and printers. Dotgain is the first in the creative industry to do something of this particular nature.
Line of Business
storePlay is the world's first App based background music service that allows music to be remotely downloaded and played on an iPod Touch, iPhone or iPad. storePlay provides playlists for retailers, restaurants, hair salons and other commercial premises and allows businesses to download 100% legal and tailored playlists for their stores and venues.
Line of Business
CivilWorks: Part of Your Civil Construction Team CivilWorks makes on-site calculations easy! From sewer main to drainage construction calculations, road and subdivision formulas, volume calculations and more. CivilWorks contains fundamental civil construction formulas to perform on-site mathematical calculations. A must-have for construction workers, CivilWorks is perfect for getting your on-site civil construction and civil engineering calculations correct every time! Stop costly reworks and delays with real-time job tracking for civil engineering management. CivilWorks is simple to use and helps get your jobs done fast and on budget.
Line of Business
Launched in January 2013 as the first entirely Australian developed board portal, the system has been locally designed and developed by Australian governance experts, for organisations to have paperless board meetings. All servers are located in Australia and all support services and staff are Australian based. BoardTRAC introduces safe, simple, and secure distribution of board papers, agendas and governance related materials anytime, anywhere. The application removes the need for carrying and distributing large paper documents for board meetings and replaces it with a simple, accessible app.
2014 Presentation
Photo Gallery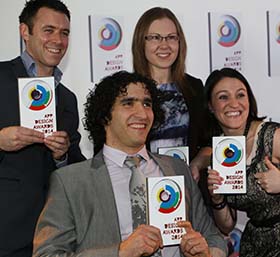 Don't forget to tag yourself, friends and colleges in the photos.
Best Of Categories
All entries submitted are automatically eligible for the relevant "Best of" category.