Games
This category relates to games including Action & Adventure, sport simulation, educational, board, card and dice developed for the mobile platform.
Nominations in Category
Games

The apocalypse has come. Elementals have ravaged towns, and humanity is pushed to the brink. However, in a small Western NSW town, a group have banded together to fight back. Using a generator to power the town, they rebuild the city and fend off Elementals who love to sap their power. But in order to find more survivors, they need to be as energy efficient as possible. PowerPlay is a fun game that gets young apprentices thinking about energy efficiency, and transforms this into positive behavioural change in their homes and workplaces.
Games
It is every sports fan's dream to be part of the game, but unless you are a player it is almost impossible to gauge the true power and precision of professional sport. We transformed the tennis viewing and TVC experience with a world first App; Game On – turning viewers smartphones into virtual tennis racquets. We gave armchair athletes the chance to feel what it is like to be on court, returning the world's fastest serves, and in doing so, demonstrate Kia's innovation credentials. Our App exceeded all expectations, and we have a patent-pending technology!
Games
That Great Word game has transformed the classic word game Scrabble for the 21st Century! The famous board game we have loved since we were kids has now been given the remix treatment for people of all ages to get creative and design their own boards and games. Just think about the countless variations and new gameplay tactics that can be introduced by having the ability to create a board and add as many or little premium tiles as you wish. TGWG is a game changer..
Games
Frantic FC is a fast, frantic and fun football manager game for iOS and Android. Build a team of your favourite players, challenge other users online and play enthralling matches all in under 60 seconds. Frantic FC achieved a Top 10 ranking in the UK App Store within 2 months of launch.
Games
Boardroom Tycoon allows players to build a company from the ground up, competing in real-time against real players to hire and fire staff, complete deals, attempt takeovers and acquire income-generating assets to build up their share price and battle for a place at the top of the leader board. With players from around the world, your company is never safe - when you are sleeping, someone else is sitting on the train on the other side of the world launching a takeover against you and lowering your share price! Money never sleeps.
2014 Presentation
Photo Gallery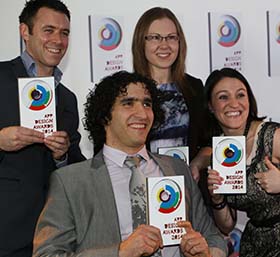 Don't forget to tag yourself, friends and colleges in the photos.
Best Of Categories
All entries submitted are automatically eligible for the relevant "Best of" category.