Music & Performance
This category relates to applications that are themed around music and performance.
This should be a gloves off battle between streaming services, algorithims, and human curated content creation. Time to enter your app and see whose app reigns supreme.
Nominations in Category
Music & Performance

storePlay is the world's first App based background music service that allows music to be remotely downloaded and played on an iPod Touch, iPhone or iPad. storePlay provides playlists for retailers, restaurants, hair salons and other commercial premises and allows businesses to download 100% legal and tailored playlists for their stores and venues.
Music & Performance
The Musica Viva app delivers the world of chamber music and music education to your fingertips. Book tickets to a concert, watch a video, listen to music, or donate to one of our music education programs.
Music & Performance
Sea Shepherd Radio - defending our oceans through the airwaves. Listen online or through an app to music and the latest news from Sea Shepherd campaigns.
2014 Presentation
Photo Gallery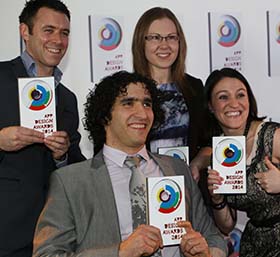 Don't forget to tag yourself, friends and colleges in the photos.
Best Of Categories
All entries submitted are automatically eligible for the relevant "Best of" category.