Education
This category recognises education themed apps across all education sectors.

Nominations in Category
Education

Easy Planner is a teacher lesson planning tool reimagined for the modern day teacher. Designed to work on any device with an internet connection. Teachers can plan all of their classes with ease with an intuitive interface designed to make lesson planning quick, efficient, multimedia rich and powerful.
Education

RACT's Driver Training App has digitised a paper-based process by making use of the user's smartphone device. The app provides two core functions for learner drivers - it allows users to test their knowledge of Tasmania road rules through an interactive quiz, and secondly allows users to log their driving hours through the app.
Education
The apocalypse has come. Elementals have ravaged towns, and humanity is pushed to the brink. However, in a small Western NSW town, a group have banded together to fight back. Using a generator to power the town, they rebuild the city and fend off Elementals who love to sap their power. But in order to find more survivors, they need to be as energy efficient as possible. PowerPlay is a fun game that gets young apprentices thinking about energy efficiency, and transforms this into positive behavioural change in their homes and workplaces.
Education
Active School Apps make school mobile apps to enhance communication with parents. By providing the latest information at parents' fingertips, our school mobile apps make lost notes and misinformation a thing of the past.
Education
Taronga Zoo teamed up with NSW Department of Education and Communities (NSW DEC)to excite students to learn about our iconic Australian animals. The Wild Australia app merges digital learning and natural investigation in a complementary way. Packed with informative videos and activities,it can be used at Taronga Zoo in Sydney, Taronga Western Plains Zoo in Dubbo or at home. The app opened up motivating ways to present student learning about native animal conservation by embracing students' creativity, technological interests and skills. This resulted in increased focus and engagement by students while on their zoo visit.
Education
This application is the essential tool for professional hairdressers. Aligned with the Matrix Hair Care mantra Reach all, Teach all, it is all about educating and inspiring professional hairdressers anytime, anywhere. Offering interactive and next generation education, it is a complete digital tool for business development and a way of combining traditional learning methods with modern digital interactivity for hairdressers.
2014 Presentation
Photo Gallery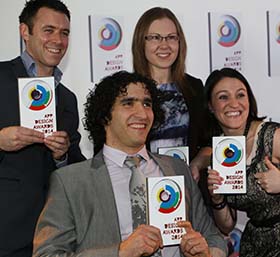 Don't forget to tag yourself, friends and colleges in the photos.
Best Of Categories
All entries submitted are automatically eligible for the relevant "Best of" category.