Best Platform
The current
pick of the crop apps have moved from roll your own to accelerating by using
platforms, platforms like yours. The winner of this category will be a platform
or service that makes the App life cycle go easier than other alternatives, it
will power features that would have taken years to bring to market and allow
App Designers to run and jump where if they had to do it themselves they would just
be imagining their solution
Nominations in Category
Best Platform

Through the delivery of two innovative initiatives, Leadbolt has advanced its already industry leading app-discovery and monetization platform into new areas of development. Leadbolt allows mobile app-developers to easily promote their apps, acquire quality users and increase profitability with a single unified SDK. In addition, it allows advertisers the ability to leverage the widest variety of advanced mobile ad-units under one roof creating a high level of discovery, engagement, conversion and return. Leadbolt delivers 5 billion ads a month across 65,000 apps in over 150 countries. Leadbolt is privately held and headquartered in Sydney and LA.
Best Platform
HARK™ is Mnet's globally patented, interactive audio recognition technology, which allows clients to create the ultimate second-screen experience. Our technology 'listens' to watermark audio delivered via any nearby audio source (television, radio, tablets, computers or digital outdoor) and synchronises applications with the broadcast. It then compares the user's physical actions (speed, position, timing) versus the ideal dataset to give them a score and feedback. This technology has been used in a number of apps including the Kia 'Game On' campaign for the Australian Open, which according to Channel 7 "set the benchmark for TV sponsorship leverage and integration".
Best Platform
The Yates My Garden Mobile app is the world's most comprehensive interactive guide to gardening. The multi platform app provides gardening pros and enthusiasts with everything they need to design, grow and manage their perfect garden, featuring an Augmented Reality Garden Visualiser with a wide selection of virtual plants. The app steps the user through the garden life cycle; finding inspiration, designing, planning, planting, growing, managing and solving pesky problems that stop the garden from thriving. The app is available on iPhone, iPad and Android; integrated with Social Media and Yate's Garden Club community.
Best Platform
Why pay tens of thousands of dollars for a mobile app when you can get a great value native one at a fraction of the cost through the AppsWiz App Designer.
Best Platform
The ideal platform for centralising highly secure mobile applications, Velocedee is a mobile enterprise application platform that enables rapid implementation of core business processes and customer applications across almost all of the wide range of mobile devices available today.
Best Platform
SendaScript is creating freedom for consumers, solving the arduous task of medication supply. It's a mobile ordering & retailing platform where customers are connected to open pharmacies anywhere, any-time. The company implements a recognized solution in removing the cash register & the sales cue, giving a customer the choice of saving time & avoiding the frustration of in-store transactions.
2014 Presentation
Photo Gallery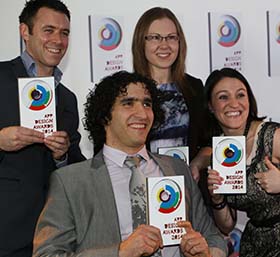 Don't forget to tag yourself, friends and colleges in the photos.
Best Of Categories
All entries submitted are automatically eligible for the relevant "Best of" category.