Home & Garden
This category relates to applications that have been developed for the home and garden, such as DIY, energy and water saving, building, furnishing, home improvements, gardens and outdoor living


Nominations in Category
Home & Garden

The Yates My Garden Mobile app is the world's most comprehensive interactive guide to gardening. The multi platform app provides gardening pros and enthusiasts with everything they need to design, grow and manage their perfect garden, featuring an Augmented Reality Garden Visualiser with a wide selection of virtual plants. The app steps the user through the garden life cycle; finding inspiration, designing, planning, planting, growing, managing and solving pesky problems that stop the garden from thriving. The app is available on iPhone, iPad and Android; integrated with Social Media and Yate's Garden Club community.
Home & Garden
Oneflare is Australia's fastest growing marketplace for local services, leading the way with more than 45,000 registered businesses and over $50 million of jobs requested. Oneflare has recently acquired Australia's largest renovation forum - RenovateForum. Oneflare's innovation extends to its iPhone & iPad app that allows customers to request from over 250 services categories and receive quotes from local businesses in real time. Customers can review these quotes together with the business' accreditation, license and customer feedback. For businesses, the app allows them to receive job leads in real time and respond or quote on-the-go.
2014 Presentation
Photo Gallery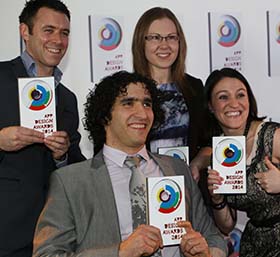 Don't forget to tag yourself, friends and colleges in the photos.
Best Of Categories
All entries submitted are automatically eligible for the relevant "Best of" category.