Education & Family
This category relates to applications associated with family activities and entertainment, childhood development and education.
Nominations in Category
Education & Family
Did you know there are 42 phonemes (Letter Sounds) across the entire English Language? We didn't until commencing this project. Phonics Under The Big Top is a gamified mobile experience for kids aged 3-5, delivered via an iPad or Android Tablet. It uses the Jolly Phonics methodology and it's multi-sensory synthetic phonics program, making learning to read and write fun for kids. Prior to "Phonics Under the Big Top," there were no dedicated mobile application that existed to teach kids the Phonetics of the Australian English language.
Education & Family

Boardroom Tycoon allows players to build a company from the ground up, competing in real-time against real players to hire and fire staff, complete deals, attempt takeovers and acquire income-generating assets to build up their share price and battle for a place at the top of the leader board. With players from around the world, your company is never safe - when you are sleeping, someone else is sitting on the train on the other side of the world launching a takeover against you and lowering your share price! Money never sleeps.
Education & Family
Half-Life Hero is a fun, engaging mobile and web game that educates kids about the process of creating nuclear medicines and industrial isotopes, and how they benefit society. Players are put in charge of ANSTO's radio-isotope production process, and must create materials like Iodine and Molybdenum to send to hospitals and medical research centres across the country. However, it's a race against time to prepare the isotopes as they decay according to their half-lives! Developed by 2and2 for ANSTO, Half-Life Hero is perfect for both classroom and family use.
Education & Family
Written for men by men, this app guides first time dads through their partners pregnancy with simple daily tips and weekly updates. Who's Your Daddy? is designed to make the lives of expecting dads easier by giving him a heads up on what to do and not to do during pregnancy in an understandable and lighthearted way.
2014 Presentation
Photo Gallery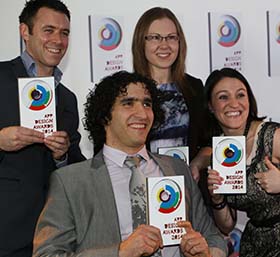 Don't forget to tag yourself, friends and colleges in the photos.
Best Of Categories
All entries submitted are automatically eligible for the relevant "Best of" category.