Not For Profit
This category recognises applications developed for Not-For-Profit organisations and charities.
Nominations in Category
Not For Profit
NPS MedicineWise identified that many Australians are hospitalised each year due to medicine mishaps that could easily be prevented. To address safer medicine use, the free MedicineList+ app for iPhone and Android was developed. This app provides individuals and carers, with a simple and easy way to manage medicines, set medicine reminders and get access to up-to-date medicine information.
Not For Profit

We created a storybook app which doubles as a screening tool. This can be operated by any adult, without previous training. As a screening tool for children, the app is more accurate, faster to operate and far more engaging than any previous One Sight method. It can also be downloaded by any child care worker to operate a OneSight quality screening anywhere in Australia.
Not For Profit
For parents who have a child with disability or autism spectrum disorder (ASD), it's easy to feel overwhelmed and confused by information, amid the day-to-day demands of raising a child with special needs. Children with ASD & Disability is an app that gives parents the information and support they are looking for. Designed and developed for use before and after diagnosis, this app enables parents to navigate local support and service systems, and learn more about disability and ASD wherever and whenever they need to.
Not For Profit
Sea Shepherd Radio - defending our oceans through the airwaves. Listen online or through an app to music and the latest news from Sea Shepherd campaigns.
Not For Profit
The Check-in app, developed by beyondblue and Two Bulls was launched in June 2014. The free app encourages young people to start and complete a conversation with a friend they are worried about. The app explains the conversation process and suggests a path – with suggested ways of approaching their friend, places and times. There are also tips from other young people who have had similar conversations and links to additional support.
Not For Profit
Report a sexual assault anonymously.
2014 Presentation
Photo Gallery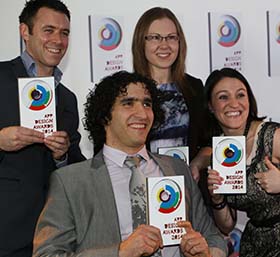 Don't forget to tag yourself, friends and colleges in the photos.
Best Of Categories
All entries submitted are automatically eligible for the relevant "Best of" category.