Project Management
The category relates to applications themed around project management.
Nominations in Category
Project Management

How do you take a server-installed app that ten thousand people rely on to run their businesses and give them access to the mission-critical information they need while out on the go?
Project Management

Whether you're building a skyscraper, a bridge, an underwater tunnel, or an oil rig; you need the most current design and construction drawings right there in your hands.. not back in your office. Up until now though, those docs have only been available onsite in hardcopy (aka paper) with all the issues that entails. Aconex Mobile bridges this gap between where the info is and where it's actually needed, ensuring you always have access to the most up to date data required to keep your project on track (and to stop it from literally falling over).
2014 Presentation
Photo Gallery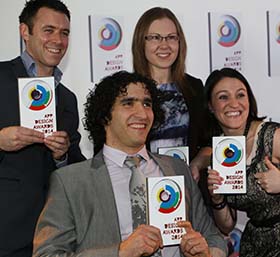 Don't forget to tag yourself, friends and colleges in the photos.
Best Of Categories
All entries submitted are automatically eligible for the relevant "Best of" category.