Government Services
This category recognises applications developed for all levels of government services.
Nominations in Category
Government Services
"Wild About Whales" is Australia's first official Whale Watching App. Every year a myriad of tourists & locals come from far and wide to experience the magnificent coasts and national parks of NSW. One of the most popular coastal attractions are the amazing Whales that inhabit the surrounding ocean, especially in the migration season that takes place June – November each year. Wild About Whales is a mobile program that lets whale enthusiasts connect & engage with the Whale watching experience. The app enables Whale aficionados to share their whale sightings, along with a plenitude of other community engagement activities.
Government Services

Looking for work is one of the toughest jobs around. Reading Room worked in collaboration with the Department of Employment to empower the +700,000 job seekers in Australia to take control of their job seeking through an interconnected set of digital tools. The power and organisational efficiency of self-service job seeking is at the heart a fresh and revitalised responsive web app that looks stunning and works superbly across all screens.
Government Services
The Victorian Government took a new approach to public feedback for the international design competition to redevelop Flinders Street Station. The People's Choice Campaign had one goal. Give people a say and make it meaningful. August developed a web app voting platform within six weeks. Voters were given insights into the entrants' designs and the tools to critique them. The campaign led to 18,974 votes in two weeks. Other key statistics: 288,053 unique site visits, 1.7 million page views & votes from over 161 countries. This project gave Melbournians a voice and placed the city on the world's architectural stage.
Government Services
Mnet is proud to represent 'INCSnap' (Incident Snap); a native iOS application and digital asset management solution designed for Queensland Fire and Emergency Service (QFES) and other State Emergency Services to manage real-time critical information related to emergency response incidents. Designed and delivered in just six weeks the solution has been extremely successful in operation and has been expanded and formalised as a primary tool in incident response and has been rapidly adopted by other services and states. Most recently in Cyclone Ita, INCSnap was the sole source of quality imagery and reliable data during the initial response phase. It has been credited with informing QFES response coordination, the Premier, the public and helping save property and lives.
Government Services
iNotice assists care workers and family carers in the early identification of risk factors associated with safe medicines use in a home environment. What makes this app unique is the way this information is delivered by spinning the wheel. This simple gesture encourages the user to keep spinning the wheel and to tap on the content, thus providing users with additional knowledge and skills for information sharing with all of the client's care team (e.g nurses, GPs, pharmacists).
Government Services
Since 1999 the Better Health Channel has helped Australian's achieve the best possible health and wellbeing through various stages of life. The website provides clinical quality assured health information and over the past 12 months has assisted over 40 million people on their health journey. This success extends to the mobile domain, with previous iOS versions of the BHC app receiving great consumer and industry acclaim - including awards at the 2012 and 2013 mobies. The V3 app extends health information access to Android users and provides an improved user experience for iOS users through a design and feature update.
Government Services
The Bureau of Meteorology's mobile weather website, launched on May 27, puts Australia's most accurate and authoritative weather intelligence directly into the hands of every smartphone user. Using GPS tracking, the site provides up-to-the-minute forecasts for users' immediate locations: the temperature, wind and chance of rain at different times of the day, together with a detailed picture of the coming week's weather. Designed to provide at-a-glance weather information for practical decision-making, the site draws upon the Bureau's Next Generation Forecast and Warning System, which covers the country with a forecasting grid capable of delivering high-resolution forecasts for every 6km² area.
Government Services
VicHealth's TeamUp app is a physical activity connection tool that allows users to search for and participate in a range of physical activities with others. Since its launch in March 2013, TeamUp has been downloaded by more than 22,600 users. More than 900 sports and activities across Victoria have been listed on the app, and users have sent more than 100,000 messages to each other through the app. TeamUp allows Victorian adults to find physical activities and sports that fit their busy lifestyles – whether they're looking to join a social soccer team, competitive cycling, or a one-off badminton game.
Government Services
The Business Victoria website gives Victorian citizens the help they need to start, run or grow their business. We redesigned the website to work beautifully, anywhere, anytime—it's responsive across any device and runs blindingly fast.
Government Services
The Queensland 132 500 Emergency Call Centre had been experiencing frequent caller drop outs during major weather events due to congestion. Intelligent Pathways was engaged to develop a mobile solution that would provide an alternative channel for the public to log requests in an emergency thereby reducing the burden on the call centre and improving responsiveness for the consumer. In conjunction with the public application, a new application for the internal call centre team was developed to improve system availability and reduce manual processes.
2014 Presentation
Photo Gallery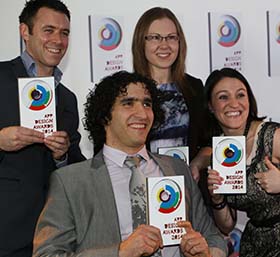 Don't forget to tag yourself, friends and colleges in the photos.
Best Of Categories
All entries submitted are automatically eligible for the relevant "Best of" category.