Fashion
This category relates to fashion themed applications.
Nominations in Category
Fashion

Since launching in January 2014, Snaptch has been referred to as "An Australian startup that's snaffling market share in the creative portfolio business" by FELLT Industry. Snaptch is an app for the iPhone and iPad that marks the modelling industry's evolution into the digital space. Snaptch has revolutionised a model's portfolio by reimagining it into a digital form in a handsome, modern & intuitive interface. Alongside an immersive portfolio gallery it also includes metrics of a models following across social media platforms (Instagram, Twitter & Facebook) to indicate their reach and influence.
Fashion
My Makeup Collection offers beauty users a unique way to store and share pictures and reviews of beauty items they have tried. Tapping into the growing beauty blogger and makeup artist consumer markets the app provides an intuitive and graphic way to organise the users makeup collection and connect with social media. The app allows users to plan future purchases with a wishlist function and also has an analytics function allowing users to review their collection.
Fashion
Snap Fashion is the world's first cross-platform visual search engine for fashion. That means that you can see something you like, take a photo, and we'll find you similar items within seconds, searching hundreds of thousands of items for you. If you love something we direct you straight to a retailer's website to buy it, or you can add it to your wishlist to save it for later, and we'll even email you if it drops in price.
2014 Presentation
Photo Gallery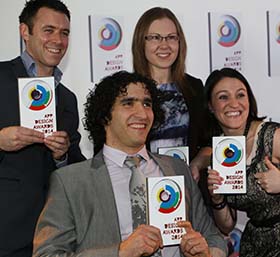 Don't forget to tag yourself, friends and colleges in the photos.
Best Of Categories
All entries submitted are automatically eligible for the relevant "Best of" category.