Cooking
This category relates to applications concerning cooking information and recipes.
Nominations in Category
Cooking

The Cook app was originally developed as a case-study for Jodie Moule's book "Killer UX Design" Published by Sitepoint in 2012. The app has taken 2 years to research, design and develop and has enjoyed global success having been awarded 'Editors Choice', 'Best New Apps', 'Essentials' and also 'Best of 2013' by Apple - a fairytale ending to the initial story - and a great showcase of the Customer Led Innovation method and approach followed to get the product to market.
Cooking
SteakMate takes the guess work out of cooking beef steaks. With an inbuilt timer and handy prompt displays, users simply enter the cut of steak they're cooking, the method being used, the doneness they're after and the thickness of the steak, and SteakMate will tell them exactly how to cook it. The queueing functionality allows users the option to cook as many types of steaks as they like at one time. If a user has a favourite steak, they can add it to their favourites list so that they're only ever one step away from cooking the perfect steak.
2014 Presentation
Photo Gallery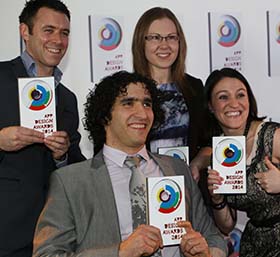 Don't forget to tag yourself, friends and colleges in the photos.
Best Of Categories
All entries submitted are automatically eligible for the relevant "Best of" category.