Mobile Payments
The category relates to applications developed to facilitate the transfer of funds over the mobile platform.
Nominations in Category
Mobile Payments
The Coles Mobile Wallet is a holistic solution that provides customers with a convenient and secure way to access internet banking and account management on their mobile phones, whilst also allowing users to pay and scan their flybuys card all on their smartphone. This new product positions Coles as an innovative leader in financial services technology, being the first app to combine rewards with mobile payment.
Mobile Payments

The Commonwealth Bank App is a world-class mobile banking experience that pushes the boundaries of mobile banking. It lets you View your account balance with one simple swipe Pay via a mobile number, email address or Facebook contact Tap & Pay with your phone at any MasterCard® PayPassTM terminal ( A worlds first for our Samsung S4 customers) Use your phone at an ATM to get money with Cardless Cash Easy control of your credit cards with Lock, Block and Limit (patent pending)
Mobile Payments
Juvo is next generation of mPOS. Juvo is the simplest way to run your business, accept card payments and has all the features you need to impress your customers. Customise your inventory, attract new customers and reward your regulars with integrated loyalty programs, and get the information you need to make informed business decisions with real-time in app reporting. Built native by the team, we've focused on building a solution that adapts to small business and has been tested extensively by actual users in the field with amazing results. Welcome to the complete mobile payment ecosystem.
Mobile Payments
microPay, a compact, mobile EFTPOS companion for Smartphones, Tablets and traditional fixed POS systems. microPay allows acceptance of credit/debit card payments there and then! No paper invoices, no cheques, no delay! Whether you mow lawns or have a market stall, microPay gives your business an on-the-go method to process secure card payments. Using microPay is easy – enter the amount you wish to be paid by your customer into the microPay app on your Smartphone or Tablet, process the transaction on the microPay device, and issue the customer receipt by email or SMS. It's that simple!
2014 Presentation
Photo Gallery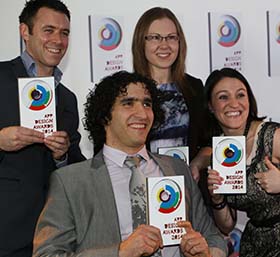 Don't forget to tag yourself, friends and colleges in the photos.
Best Of Categories
All entries submitted are automatically eligible for the relevant "Best of" category.