Utilities
This category relates to utility applications such as text edit, diary, translator, document viewer, industry directory.
Nominations in Category
Utilities

ParcelSend is the first application in the Australian market allowing users to perform an entire end-to-end parcel sending transaction from their phone. The app lets users get quotes, create labels, pay for delivery and even organise for parcels to be collected – all on their mobile phone, wherever they are.
Utilities
Launched in January 2013 as the first entirely Australian developed board portal, the system has been locally designed and developed by Australian governance experts, for organisations to have paperless board meetings. All servers are located in Australia and all support services and staff are Australian based. BoardTRAC introduces safe, simple, and secure distribution of board papers, agendas and governance related materials anytime, anywhere. The application removes the need for carrying and distributing large paper documents for board meetings and replaces it with a simple, accessible app.
Utilities
The Yates My Garden Mobile app is the world's most comprehensive interactive guide to gardening. The multi platform app provides gardening pros and enthusiasts with everything they need to design, grow and manage their perfect garden, featuring an Augmented Reality Garden Visualiser with a wide selection of virtual plants. The app steps the user through the garden life cycle; finding inspiration, designing, planning, planting, growing, managing and solving pesky problems that stop the garden from thriving. The app is available on iPhone, iPad and Android; integrated with Social Media and Yate's Garden Club community.
Utilities
Choose Tap, an initiative by Yarra Valley Water, aims to promote the benefits of drinking tap water as part of a healthy lifestyle and positive alternative to bottled water. So why not make this easier for people by letting them know where publically accessible tap water is around Melbourne? The Yarra Valley Water Choose Tap application helps you to find tap water wherever you are in Melbourne. With more than 5000 locations, anyone using the iOS or Android app can find tap water when they need it.
2014 Presentation
Photo Gallery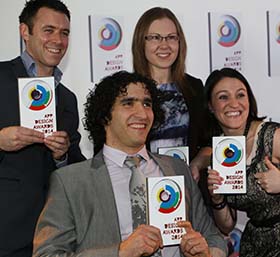 Don't forget to tag yourself, friends and colleges in the photos.
Best Of Categories
All entries submitted are automatically eligible for the relevant "Best of" category.