Travel & Tourism
This category relates to applications dedicated to travel and tourism services and information.
Nominations in Category
Travel & Tourism

The Victorian Government took a new approach to public feedback for the international design competition to redevelop Flinders Street Station. The People's Choice Campaign had one goal. Give people a say and make it meaningful. August developed a web app voting platform within six weeks. Voters were given insights into the entrants' designs and the tools to critique them. The campaign led to 18,974 votes in two weeks. Other key statistics: 288,053 unique site visits, 1.7 million page views & votes from over 161 countries. This project gave Melbournians a voice and placed the city on the world's architectural stage.
Travel & Tourism
Views On Top showcases the best scenic destinations around the world. Likened to the 'child of Instagram and TripAdvisor', the app helps people easily find places with great views in 85 countries, with stunning images, a summary of what to expect, opening times, maps, directions and more. On personalised world maps, users can build a bucket-list of places they want to visit and record where they've been. Views On Top encourages sharing of photos, comments, and recommendations for locations with views, plus you can book tickets and reserve hotel rooms direct from the app.
Travel & Tourism
To re-make a paper magazine into a tablet app that literally sings and dances.
Travel & Tourism
Thirst for Sydney is an iPhone travel guide app to exploring Sydney Harbour's best bays, beaches and bars. Five curated itineraries integrate with ferry timetables, maps and step by step walking directions to explore harbourside neighbourhoods — helped along by lively commentary, photos and reviews. Written by a Sydney born-and-bred travel writer, the guide also includes exclusive insider tips from ferry masters and crew, who for the first time ever have contributed to an app. A real-time interactive feature allows locals and travellers to connect and meet up at harbourside watering holes along the way.
2014 Presentation
Photo Gallery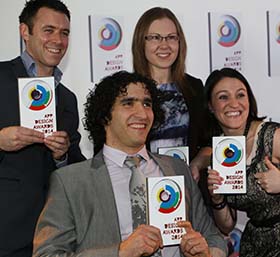 Don't forget to tag yourself, friends and colleges in the photos.
Best Of Categories
All entries submitted are automatically eligible for the relevant "Best of" category.