Fitness, Nutrition & Diet
Applicable to all Apps themed around fitness activities, nutrition and diet including services, instructional, trackers, counters, guides and workouts.
Nominations in Category
Fitness, Nutrition & Diet
Turn Your Physical Activity into a Real World Travel Experience. Taking You Around the Globe to Complete Your Fitness Goals.
Fitness, Nutrition & Diet

BodyWise is a health and fitness tracking app that makes tracking more interesting and motivating. It syncs with your Fitbit or Jawbone UP, bringing that data into your health and fitness dashboard. Match that with the 40+ health & fitness metrics that you can track and BodyWise discovers a better path to living healthier and more energetic.
Fitness, Nutrition & Diet
The GCC was developed over a decade ago to improve the health and performance of employees around the world. Our program has transformed the cultures of thousands of the world's leading organisations and changed the lives of over a million employees across 185 countries. Our scientifically developed, clinically proven 12-month program fundamentally improves employees' relationship with exercise and nutrition and instils in them a new sense of self-belief, personal responsibility and resilience. The program starts with the GCC 100 Day Journey, a virtual race around the world designed to get employees active again.
Fitness, Nutrition & Diet
Easy Diet Diary is the top free Australian-made calorie counter for iPhone. It helps thousands of Australians to manage their own eating and weight. Over 460 000 people have downloaded Easy Diet Diary since 2012, and the app is consistently in the Top 10 Free Apps in the Health and Fitness category of the iPhone app store. Developments underway include facilitating easier collaboration between our users and their health professionals, and addressing specific nutrition-related health conditions.
Fitness, Nutrition & Diet
Since 1999 the Better Health Channel has helped Australian's achieve the best possible health and wellbeing through various stages of life. The website provides clinical quality assured health information and over the past 12 months has assisted over 40 million people on their health journey. This success extends to the mobile domain, with previous iOS versions of the BHC app receiving great consumer and industry acclaim - including awards at the 2012 and 2013 mobies. The V3 app extends health information access to Android users and provides an improved user experience for iOS users through a design and feature update.
Fitness, Nutrition & Diet
VicHealth's TeamUp app is a physical activity connection tool that allows users to search for and participate in a range of physical activities with others. Since its launch in March 2013, TeamUp has been downloaded by more than 22,600 users. More than 900 sports and activities across Victoria have been listed on the app, and users have sent more than 100,000 messages to each other through the app. TeamUp allows Victorian adults to find physical activities and sports that fit their busy lifestyles – whether they're looking to join a social soccer team, competitive cycling, or a one-off badminton game.
2014 Presentation
Photo Gallery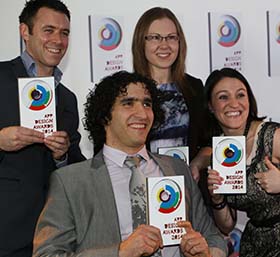 Don't forget to tag yourself, friends and colleges in the photos.
Best Of Categories
All entries submitted are automatically eligible for the relevant "Best of" category.