Best New Service or Application
This category recognises the best new service or application on a mobile platform.
Nominations in Category
Best New Service or Application
ANZ's vision is to create the world's best wealth management platform with Grow, an iOS app that allows customers to manage their financial portfolio all in one place. It combines basic banking features with share trading, superannuation and insurance in the one app. Designed with usability and simplicity in mind, Grow cements ANZ's position as a leader in technology innovation in the banking and finance sector.
Best New Service or Application
The Coles Mobile Wallet is a holistic solution that provides customers with a convenient and secure way to access internet banking and account management on their mobile phones, whilst also allowing users to pay and scan their flybuys card all on their smartphone. This new product positions Coles as an innovative leader in financial services technology, being the first app to combine rewards with mobile payment.
Best New Service or Application

The Yates My Garden Mobile app is the world's most comprehensive interactive guide to gardening. The multi platform app provides gardening pros and enthusiasts with everything they need to design, grow and manage their perfect garden, featuring an Augmented Reality Garden Visualiser with a wide selection of virtual plants. The app steps the user through the garden life cycle; finding inspiration, designing, planning, planting, growing, managing and solving pesky problems that stop the garden from thriving. The app is available on iPhone, iPad and Android; integrated with Social Media and Yate's Garden Club community.
Best New Service or Application
storePlay is the world's first App based background music service that allows music to be remotely downloaded and played on an iPod Touch, iPhone or iPad. storePlay provides playlists for retailers, restaurants, hair salons and other commercial premises and allows businesses to download 100% legal and tailored playlists for their stores and venues.
Best New Service or Application
Powershop's obsessed with helping customers. This obsession meant that we had to create a simple, clever and beautiful app to add to our existing toolkit. This app allowed customers the ability to monitor, track and engage with their energy. This means that you can see how much your using, what it's costing before you're asked to pay for it! It provided customers with something absent in offerings from other retailers - full transparency of their energy consumption and cost whenever they like it. Our goal was to put the power back in the hands of our customers.
Best New Service or Application
Boardroom Tycoon allows players to build a company from the ground up, competing in real-time against real players to hire and fire staff, complete deals, attempt takeovers and acquire income-generating assets to build up their share price and battle for a place at the top of the leader board. With players from around the world, your company is never safe - when you are sleeping, someone else is sitting on the train on the other side of the world launching a takeover against you and lowering your share price! Money never sleeps.
Best New Service or Application
Unique interactive technology that has firmly established the Photo Booth into the 'Social Era'. Instantly connecting consumers with brands, events and friends through instant Facebook posts, email and mobile messages. Enabling Sporting Rights Holders, Event Organisers and Marketers to increase User Generated Content building awareness and engagement with new consumers.
Best New Service or Application
Teamstuff is an award winning, free mobile and web app for social sports teams that helps them to communicate and manage important team stuff like schedules, game details (with maps!), attendance, rostering, duties, contacts, emergency medical info and more. It lightens the workload for managers & coaches, makes scheduling clearer for parents and players with multiple schedules, works for all varieties of family and lets the whole team focus on the important stuff – the game itself. Less work, more play!
Best New Service or Application
SendaScript is creating freedom for consumers, solving the arduous task of medication supply. It's a mobile ordering & retailing platform where customers are connected to open pharmacies anywhere, any-time. The company implements a recognized solution in removing the cash register & the sales cue, giving a customer the choice of saving time & avoiding the frustration of in-store transactions.
Best New Service or Application
realcommercial.com.au's iOS app offers all the search functionality of Australia's leading commercial property site, realcommercial.com.au, in a simple, user-friendly interface. The app is designed to save time and make it easier for businesses to buy, sell or lease commercial property. In an Australian first, the app also offers property industry news, analysis and guides as well as comprehensive listings. Use of the realcommercial.com.au iOS app increased by 52% from July 2013 to June 2014.
2014 Presentation
Photo Gallery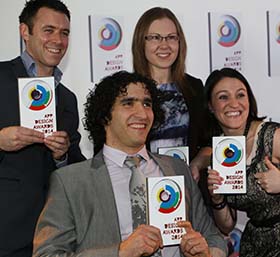 Don't forget to tag yourself, friends and colleges in the photos.
Best Of Categories
All entries submitted are automatically eligible for the relevant "Best of" category.