Weather
This category relates to applications themed around informing users on the weather. It includes general weather applications as well as specifics such as surf/snow reports and tools such barometers.
Nominations in Category
Weather

The Bureau of Meteorology's mobile weather website, launched on May 27, puts Australia's most accurate and authoritative weather intelligence directly into the hands of every smartphone user. Using GPS tracking, the site provides up-to-the-minute forecasts for users' immediate locations: the temperature, wind and chance of rain at different times of the day, together with a detailed picture of the coming week's weather. Designed to provide at-a-glance weather information for practical decision-making, the site draws upon the Bureau's Next Generation Forecast and Warning System, which covers the country with a forecasting grid capable of delivering high-resolution forecasts for every 6km² area.
Weather
Oz Quake app offers its users the latest seismic information from 7 international agencies including US Geological Survey, European-Mediterranean Seismological Centre and GeoScience Australia. With more than 250,000 downloads and 50,000 active monthly users the app is one of the most popular earthquake apps in the world. Every month Oz Quake sends over 3,000,000 free push notifications with the information about recent earthquakes to its registered users. Oz Quake is a free to use app with premium features available via in-app-purchases.
2014 Presentation
Photo Gallery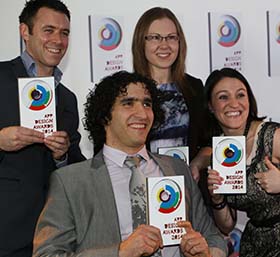 Don't forget to tag yourself, friends and colleges in the photos.
Best Of Categories
All entries submitted are automatically eligible for the relevant "Best of" category.