Mobile Trading Platforms
This category recognises applications that provide market trading platforms on the mobile platform.
Nominations in Category
Mobile Trading Platforms

ANZ's vision is to create the world's best wealth management platform with Grow, an iOS app that allows customers to manage their financial portfolio all in one place. It combines basic banking features with share trading, superannuation and insurance in the one app. Designed with usability and simplicity in mind, Grow cements ANZ's position as a leader in technology innovation in the banking and finance sector.
2014 Presentation
Photo Gallery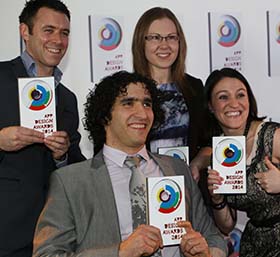 Don't forget to tag yourself, friends and colleges in the photos.
Best Of Categories
All entries submitted are automatically eligible for the relevant "Best of" category.