Directories & guides
This category is suitable for applications providing directory listings or information guides bringing all the relevant information and tips together in one app e.g.industry listings, trade directories, planners
Nominations in Category
Directories & guides

Kindy allows parents to find the best local nannies and babysitters, through a beautifully designed and intuitive mobile app. Our innovations such as real time background checks, nanny sharing, and easy search filters create trust, affordability and convenience, taking the stress out of finding quality child care.
Directories & guides
Yellow Pages® Android is a free app that helps you find, select and connect with local businesses wherever you are in Australia. With Yellow Pages®, you can search for nearby businesses using your current location, explore with map search, save your favorite businesses to your contact list, share listings with friends via email, text, or social and identify unknown business calls with our brand new feature, Caller ID. Sensis's Caller ID feature is the first solely for Australian use, there are other apps out there that support more than Australia, however are tailored to the US.
Directories & guides
Oneflare is Australia's fastest growing marketplace for local services, leading the way with more than 45,000 registered businesses and over $50 million of jobs requested. Oneflare has recently acquired Australia's largest renovation forum - RenovateForum. Oneflare's innovation extends to its iPhone & iPad app that allows customers to request from over 250 services categories and receive quotes from local businesses in real time. Customers can review these quotes together with the business' accreditation, license and customer feedback. For businesses, the app allows them to receive job leads in real time and respond or quote on-the-go.
Directories & guides
For parents who have a child with disability or autism spectrum disorder (ASD), it's easy to feel overwhelmed and confused by information, amid the day-to-day demands of raising a child with special needs. Children with ASD & Disability is an app that gives parents the information and support they are looking for. Designed and developed for use before and after diagnosis, this app enables parents to navigate local support and service systems, and learn more about disability and ASD wherever and whenever they need to.
2014 Presentation
Photo Gallery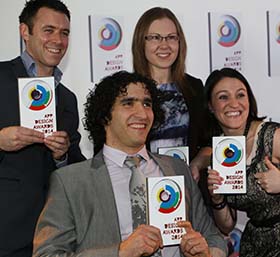 Don't forget to tag yourself, friends and colleges in the photos.
Best Of Categories
All entries submitted are automatically eligible for the relevant "Best of" category.