Best Mobile Expanded Service or Application
This category recognises the best expanded mobile service or application.
Nominations in Category
Best Mobile Expanded Service or Application

realestate.com.au's iOS app helps Australians live their property dreams. realestate.com.au is Australia's number one destination for people looking to buy, rent and sell property and its mobile apps are market leaders, surpassing 3 million downloads in March 2014 (iOS and Android). Average monthly app visits grew 112% in the six months to 31 December 2013. realestate.com.au's iOS app consistently ranks in the top 10 free lifestyle apps in Apple iTunes store.
Best Mobile Expanded Service or Application

The carsales app provides the tools to help users buy and sell cars with confidence. Users can search over 200,000 new and used cars, compare vehicle makes and models, access their member centre and list their car straight from any mobile device with Snap n' Sell. With over 3 million downloads and such a breadth of features and functionality, the carsales app receives an exceptional 5 star rating from the Apple app store and 4.5 stars from Google play.
Best Mobile Expanded Service or Application
Whether you're building a skyscraper, a bridge, an underwater tunnel, or an oil rig; you need the most current design and construction drawings right there in your hands.. not back in your office. Up until now though, those docs have only been available onsite in hardcopy (aka paper) with all the issues that entails. Aconex Mobile bridges this gap between where the info is and where it's actually needed, ensuring you always have access to the most up to date data required to keep your project on track (and to stop it from literally falling over).
Best Mobile Expanded Service or Application
Domain.com.au is one of the largest property portal in Australia with most comprehensive mobile products offerings. Our mobile site and apps are very functional with fantastic on-the-road tools that help our users with their property hunting and inspections. With Domain traffic from mobile devices now surpasses the desktop traffic, our audience have definitely migrated to mobile technology.
Best Mobile Expanded Service or Application
The Yates My Garden Mobile app is the world's most comprehensive interactive guide to gardening. The multi platform app provides gardening pros and enthusiasts with everything they need to design, grow and manage their perfect garden, featuring an Augmented Reality Garden Visualiser with a wide selection of virtual plants. The app steps the user through the garden life cycle; finding inspiration, designing, planning, planting, growing, managing and solving pesky problems that stop the garden from thriving. The app is available on iPhone, iPad and Android; integrated with Social Media and Yate's Garden Club community.
Best Mobile Expanded Service or Application
SendaScript is creating freedom for consumers, solving the arduous task of medication supply. It's a mobile ordering & retailing platform where customers are connected to open pharmacies anywhere, any-time. The company implements a recognized solution in removing the cash register & the sales cue, giving a customer the choice of saving time & avoiding the frustration of in-store transactions.
Best Mobile Expanded Service or Application
The Victorian Equal Opportunity & Human Rights Commission (VEOHRC) seeks to resolve issues around discrimination, sexual harassment, victimisation and racial or religious vilification through a free, fair and timely dispute resolution service that aims to achieve a mutual agreement. Reporting hate and analysing metrics became crucial to the organisation's work, and an app was commissioned to allow users to report hateful behaviour in their community.
Best Mobile Expanded Service or Application
By turning a static record into a dynamic and interactive experience we brought the traditional business report to life. Each year Optus Business undertakes an in depth survey of decision-makers and publishes the insights within its Future of Business Report. This year Optus decided that the report itself should itself be multichannel. It should exemplify computer enabled data visualisation and communicate in a wholly new, interactive and engaging way.
2014 Presentation
Photo Gallery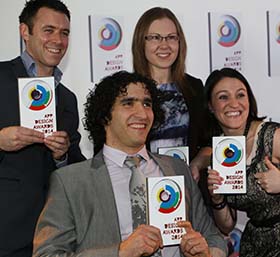 Don't forget to tag yourself, friends and colleges in the photos.
Best Of Categories
All entries submitted are automatically eligible for the relevant "Best of" category.