Food & Drink
This category relates to applications themed around food and drink. Restaurant and bar reviews and guides would enter here.
Nominations in Category
Food & Drink

Sexy Salsa's diners can rejoice with their very own dedicated mobile website ! In 2014, its never been easier to find your closest Salsa's outlet for; - Tasty Tacos - Spicy Burritos - Yummy Nachos DEDICATED M. MOBILE WEBSITE Red Pants brilliant design and world leading technology delivers all smartphone users direct to their closest Salsa's store via a dedicated mobile website. www.salsas.com.au Ole ! Say Jose ! (oh yeah... once launched, an extra 100 customers used the store locator EVERY DAY !)
Food & Drink
The App that Pays you!- Reccofriend is a social marketing app that pays you to market participating outlets to your friends. You know better than anyone what type of dining and shopping experiences your friends like, so join ReccoFriend and we'll pay you for your insight.
Food & Drink
Choose Tap, an initiative by Yarra Valley Water, aims to promote the benefits of drinking tap water as part of a healthy lifestyle and positive alternative to bottled water. So why not make this easier for people by letting them know where publically accessible tap water is around Melbourne? The Yarra Valley Water Choose Tap application helps you to find tap water wherever you are in Melbourne. With more than 5000 locations, anyone using the iOS or Android app can find tap water when they need it.
Food & Drink
The LambRoast app makes roasting so easy, anyone can do it. Tap your way to the perfect lamb roast in three simple steps. 1. Select your cut 2. Input the weight of the cut 3. Start cooking! From mid week mini roasts that can be cooked in half an hour, to long Sunday lunches with friends or family - any day of the week is perfect for a lamb roast.
2014 Presentation
Photo Gallery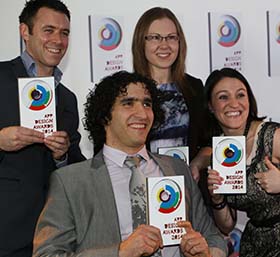 Don't forget to tag yourself, friends and colleges in the photos.
Best Of Categories
All entries submitted are automatically eligible for the relevant "Best of" category.