Financial Information & Tools
This category relates to applications that provide financial information and tools.
Nominations in Category
Financial Information & Tools

The Coles Mobile Wallet is a holistic solution that provides customers with a convenient and secure way to access internet banking and account management on their mobile phones, whilst also allowing users to pay and scan their flybuys card all on their smartphone. This new product positions Coles as an innovative leader in financial services technology, being the first app to combine rewards with mobile payment.
Financial Information & Tools
ANZ's vision is to create the world's best wealth management platform with Grow, an iOS app that allows customers to manage their financial portfolio all in one place. It combines basic banking features with share trading, superannuation and insurance in the one app. Designed with usability and simplicity in mind, Grow cements ANZ's position as a leader in technology innovation in the banking and finance sector.
Financial Information & Tools
Using a rapid, agile and collaborative approach alongside Maxxia (MMSG), HeathWallace Australia designed and developed a mobile website that would enable new and existing customers to access Maxxia's range of products and services from their mobile devices. The enablement of the mobile channel for Maxxia seeks to encourage enquiries to their sales team through use of helpful, bite-size information and tools that drive engagement with the Maxxia range of products and services.
Financial Information & Tools
Westpac's Pay Pig App is a fun, easy-to-use educational, family-friendly app helping kids learn the value of saving and working towards a long-term goal. Parents simply set up chores, time frame, reward amount and Pay Day for each chore/task undertaken. In turn, kids set their goals for things they want to save for, take responsibility for getting chores done to save money for their goals. Once the chores are completed, kids tick them off and the parents receive a notification. On Pay Day, the child is one step closer to reaching his/her savings long-term goal.
Financial Information & Tools
Boardroom Tycoon allows players to build a company from the ground up, competing in real-time against real players to hire and fire staff, complete deals, attempt takeovers and acquire income-generating assets to build up their share price and battle for a place at the top of the leader board. With players from around the world, your company is never safe - when you are sleeping, someone else is sitting on the train on the other side of the world launching a takeover against you and lowering your share price! Money never sleeps.
2014 Presentation
Photo Gallery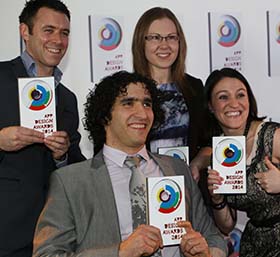 Don't forget to tag yourself, friends and colleges in the photos.
Best Of Categories
All entries submitted are automatically eligible for the relevant "Best of" category.