Product Design - Home
This award celebrates creative and innovative design for either a component or overall product. Consideration given to aspects that relate to human usage, aesthetics, selection of components and materials, and the resolution of assembly, manufacturing and the overall function.
Nominations in Category
Product Design - Home
A hybrid dustpan / lobby pan that fuses the benefits of both items delivering a household cleaning item that cleans quickly, easily and effectively. It is extremely suited to the elderly population where crouching down to clean small areas is eliminated and its space efficient design can be conveniently stored away for later use. At a very affordable cost of less than $15.
Product Design - Home
The Papadum Express, is the world's first Papadum Microwave Cooking Tray! Forget starting the stove, warming the pan, heating the oil, watching over the cooking, frying each papadum one at a time, then all the washing & cleaning! Seriously, who's got time for all that hassle, every-time you feel like a Papadum?! Now, with the Papadum Express you can simply, … Stack, Whack and Serve up-to 10 Papadums fast...in 60 seconds. Crisp n' Crunchy Indian Papadums, Oil Free, Fat Free & Easy-to-Clean! As a 'World's First', our goal was to create an absolute supreme quality Papadum microwave tray, that lived up-to iconic Australian manufacturing standards, in the same way that other unique and great Aussie products have done so in the past. We made it Strong, Durable and Beautiful! World Class, you'll see..
Product Design - Home

Cactus rack is a freestanding and modular surfboard rack that is perfect for any room. Store your all of your surfboards vertically without having to drill into walls. The innovative modular design of the Cactus rack means that you can add to your board storage at any time. It's the versatile surfboard rack that grows with your quiver. Each piece of timber is hand crafted from sustainably grown plantation bamboo, ensuring a artisans touch and leaving a minimal footprint anywhere on earth. Flat-packed and easy to assemble with only a single Allen key, the Cactus surfboard rack is a stylish and flexible solution to surfboard storage around the home.
Product Design - Home

Introducing the worlds first designer washing line... From wall feature 2 functional clothesline / clothes airer in 5 seconds be it for indoor or outdoor applications - the designer.line is a stylish contemporary space saver for drying laundry that's modular in design, eco-friendly, convenient, durable and rust-proof. For those who desire style and practicality, designer.line transcends the norm of clothes drying designs and environmentally damaging use of tumble dryers. the designer.line offers an attractive modular system design feature suited to the interior of any home, to a fully functioning clothesline the designer.line transcends cool surpasses practicality.
Product Design - Home

Seeley International is the first Australian manufacturer to introduce a touch screen MagIQ Touch Controller for evaporative cooling products, and like Seeley International's other industry-leading products, it has been developed and is being manufactured right here in Australia. The MagIQ Touch Controller is unique in the sense that it meets the needs of various users – service agents, installers and end consumers. The controller facilitates the evaporative cooler installation process, displays information for each of the fault codes as a troubleshooting guide, and facilitates the end consumer's experience with the product, for example, by offering energy saving modes.
2014 Presentation
Photo Gallery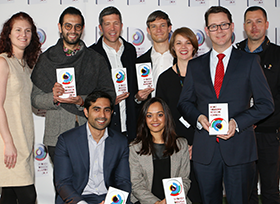 Don't forget to tag yourself, friends and colleges in the photos.
Best Of Categories
All entries submitted are automatically eligible for the relevant "Best of" category.