Awards Entries
Advertising - Outdoor, Retail, POS
Frost* covered Sydney in condoms, with a campaign created for the AIDS Council of NSW (ACON). The Stay Safe campaign was one of three components of Ending HIV (which also includes Test More and Treat Early to be deployed early 2014) and was aimed to create a dialogue with gay men that would reinforce condom use as a key factor for ending the HIV epidemic.
Advertising - Print
Moonlight Cinema is an outdoor cinema operating from December to March in Sydney, Melbourne, Adelaide, Perth and Brisbane. Moonlight wanted to refresh its brand identity for its summer 2013/14 season in order to position itself as a must-do on summer's entertainment calendar. More than just an 'outdoor cinema', Moonlight is an event with a festival-like atmosphere, a unique experience including social, entertainment and food and beverage components. The aim of the 2013/14 season advertising artwork was to market Moonlight Cinema as a fun and festive event, to excite audiences and encourage them to purchase tickets in advance, as they would for a popular summer music festival.
Architecture - Commercial - Constructed
8 Chifley Square is a speculative commercial office development which arose out of a City of Sydney Design Excellence Competition for a premium grade tower on a significant and highly visible site in the financial district of Sydney's central business district. The design of the new tower came about as a result of collaboration between architects Lippmann Partnership and Rogers Stirk Harbour + Partners with the engineering disciplines carried out by ARUP. A major public artwork was created by American artist Jenny Holzer. In satisfying the project's commercial objectives, the development makes a unique contribution to contemporary commercial workplace culture and a significant innovation to Sydney's public realm. The development also achieves the highest contemporary standards of environmental sustainability with the potential to further enhance its performance in the future.
Architecture - Mixed Use - Constructed
This meticulously planned project is the culmination of the visions of a carefully selected team. We travelled the globe gaining inspiration from the world's most vibrant and exciting urban developments and locations to bring this adventurous project to life.
Architecture - Proposed
Gunyama Residence forms part of the Green Square urban fabric, with a landmark ten storey building to the North, immediately adjacent the sports park and two smaller buildings to the East. The buildings are joined by skybridges and opened up at ground floor to create dynamic urban hub where residents and visitors add to the diversity and vibe of the area, sustainably all year round. The architectural language for all three buildings is deduced by the aboriginal word "Gunyama", meaning wind. We were inspired by the effect wind has and the patterns it creates as it passes around an object. The horizontal curvilinear balcony spandrels and fenestration have a sculptural dynamism, reminiscent of the rippling sands or wind moving through reeds. The free, flowing nature of this form offers dynamic modelling of the façade and a substantial degree of sun shading to fenestration. Roof spaces have also been considered and designed as linking gardens with terraces, so that residents can not only enjoy intimate spaces but they're aesthetically pleasing when viewed from above. In the lower buildings residential lobbies, you will be surrounded by naturally sunlit and ventilated communal open spaces.
Architecture - Residential - Constructed
This refurbishment consists of refurbishment of two existing building located amongst the activated laneways, cafes, restaurants and bars in the heart of Neutral Bay. The apartments offer one and two bedroomed homes that include a private barbecue. designed with the residents comfort and lifestyle in mind. The design rationalises the existing planning and removes the extraneous elements from the site. We've created an enhanced interface by layering a faced that communicates more clearly from the external and internal transition. There has been a creation of a central court yard that opens up the possibility for social connections and interaction improving the lifestyle not previously achieved between these buildings
Design Manufacturer - Made in Sydney
Axolotl has pushed the boundaries of design since our inception in 1995 when we pioneered the bonding of semi-precious metal onto any substrate. Over the past 19 years we have never rested in our quest to continue to amaze and inspire, taking architectural glass to new creative heights since 2005 and launching our concrete and timber ranges in 2011 and 2012. Committed to ever evolving, we are constantly developing the range of products we offer and introducing new technologies and new aesthetics that meet the increasingly diverse needs of our customers. The Axolotl name is synonymous with technological innovation and state-of-the-art design. We are at the forefront of our game and we are dedicated to providing the best quality and most innovative products for Australian and international markets.
Digital Experience - Mobile
The Yates My Garden Mobile app is perhaps the world's most comprehensive interactive guide to gardening right in your pocket. The multi platform app provides gardening pros and enthusiasts with everything they need to design, grow and manage their perfect garden, featuring an Augmented Reality Garden Visualiser with a wide selection of virtual plants. The app steps the user through each stage of the garden life cycle; finding inspiration, designing, planning, planting, growing, managing and solving pesky problems that stop the garden from thriving. The app is available to use across iPhone, iPad and Android; it is also fully integrated with Social Media, Yates website and their popular Garden Club community.
Digital Experience - Website
The YMCA NSW (the Y) is a not-for-profit charity that operates in more than 40 communities across NSW. Through the core divisions of Recreation, Camping and Children's Services, the Y offers a range of programs that focus on bringing families together, healthy living, developing young people and helping those less fortunate. The new responsive YMCA website was launched in December 2013 after a four month project period, with a focus on encompassing the core divisions. Key features of this project include: - A full overhaul of the existing information architecture and primary navigation via a comprehensive planning process - Brand new site design with up to 20 templates for three different breakpoints (desktop, tablet and mobile – 60 templates total) - A new, fully-responsive website designed to work across desktop, tablet and mobile - Up to 40+ individual centre microsites within the main YMCA site where the look and feel can be customised with centre colours all managed within the same back-end. - Supports publishing of commonly shared information between microsites - Integrated location services to help users effortlessly find their perfect centre - Tailored centre directory that supports scalability.
Event Experience - Consumer
This work is an 2.4 meter hand made signage for the Semi-Permanent conference, celebrating the new Semi-Permanent brand. Our aim is to effectively create a memorable and meaningful experience by using this display as a design intervention - a piece that is environmentally responsible and will inspire a crowd of creatives to engage with the new SP logo.
Graphic Design - Corporate Identity and Branding
As one of Australia's leading not-for-profit organisations, Life Without Barriers offers a range of care services to people in need – from Child Services and Refugee & Asylum Seeker Support, to Aged Care and Disability Services. But Life Without Barriers does more than just lend a hand. They partner with people to change their lives for the better – by acknowledging the barriers, overcoming the obstacles together, and empowering individuals to live the best life they can. Since its founding in 1995, Life Without Barriers has grown at a rapid pace. And the not-for-profit landscape is evolving too – with more competition, and new government regulations in place. It was time for Life Without Barriers to break down more barriers. To raise its profile, and truly stand out from the crowd.
Graphic Design - Environmental
Frost* designed an integrated signage, wayfinding and environmental branding system for the newly-launched redevelopment of Qantas HQ in Sydney's Mascot.
Graphic Design - Environmental
THERE was engaged to collaborate with Colliers Project Services to deliver an 8,500sqm branded environment experience for the 3M who were looking to consolidated their business at a new headquarters in North Ryde. The design brief objective was to create dynamic, transitional 'experiences' within the space, with the outcome objective of delivering an engaging, inspiring and motivational workspace for both 3M staff and visitors.
Graphic Design - Illustration and Type
Frost* collaborated with the City of Sydney to create a graphic poster campaign featuring a bicycle-themed, hand-drawn font, to encourage bike riders to ride safely when using the City's roads and new network of cycleways.
Graphic Design - Publication
Elton John has a copy and OPRAH claimed to want to "lick every page" of Butterflies and All Things Sweet: The Story of Ms B's Cakes. This is Ikon's Kate Dennis was creative director on this high profile coffee table book by Bonnae Gokson, a Hong Kong-based, world-renowned lifestyle guru, entrepreneur and restaurateur. The book was launched in September, 2013 at JOYCE Hong Kong, Shanghai and Beijing, followed by Manila and the Philippines. The New York launch in October 2013 was hosted by Ralph Lauren at his Madison Avenue store. Butterflies and All Things Sweet recently won in the Photography/Art category at the Paris Book Festival 2014.
Graphic Design - Three Dimensional
Revitalising the masculinity of the Australia tea market - This concept was the foundation to establishing the brand The Tea Guild as boutique Tea brand providing an offering to a male demographic, a sector typically neglected within the Australian market. Drawing from tradition and designing for longevity sees to the creation of this elegant and crafted brand and accompanying packaging system. The set includes custom fabricated tea tins, a Queensland Walnut storage box, stainless steel tea strainer, coasters and information guide.
Installation, Display, Exhibit & Set Design
TetraBIN explores how innovative digital technologies can be used to motivate positive change in urban environments. In particular it tackles the problem of littering by associating the act of rubbish disposal with a fun and rewarding activity. The act of putting rubbish into a bin is turned into a game, where a piece of rubbish is mapped to an interaction within a game world displayed on a computer controlled screen surrounding the bin. Depositing of rubbish into a bin, which is normally seen as an insignificant act requiring minimum thought is given importance as the participant must drop their rubbish into the bin at the right moment to advance further in the game. This experience of an augmented reality in which actions in the real world affect the virtual world lead the participant to consider environmental issues facing the city, specifically the collection and management of waste.
Interior Design - Corporate
Media Agencies, Wunderman and Bienalto were to move from two floors in Darlinghurst into one floor at 35 Clarence Street, where they would exist in the same building as some of the sister companies under the WPP umbrella. They were after a bright and inspiring new work space that would excite staff and clients alike. They were keen to explore an Activity Based Work setting that responded to changing workplace conditions and that would enhance workplace culture. As an Activity Based Working project, we had to allow for a variety of work settings including seamless partition-less bench style workstations, high bench style project tables, enclosed booths, small quiet rooms, meeting rooms as well as an active work-friendly reception area and large communal breakout that would be able to host large meetings. The design response was bright and playful. Our aim was to break away from tradition, so we experimented with materiality and colour. Drawing on the colour palette from the company logo, local graffiti artists were engaged to paint the arrival area to an immediate sense of the media agency's brand for any visitors. A snapshot of the inner working of Wunderman and Bienalto.
Interior Design - Hospitality
THE QANTAS HONG KONG LOUNGE is the evolution of the regional luxe lounge concept developed originally by the SUMU / CAON design team for the Qantas Singapore Lounge. Qantas' brief to SUMU DESIGN and CAON STUDIO was to reflect a new boutique style concept representing Hong Kong through its design, and taking cues from the design developed for the Qantas Singapore Lounge.
Interior Design - Public or Institutional
Bluey's Treehouse is a purpose built early learning centre, inspired by the classic Australian Coastal home. Unlike the average child care centre, each room has natural, homely touches which include recycled timber, wool carpets, organic sheets, vintage collectibles, Porters wallpapers and painted feature walls. The result is a warm, nurturing environment which stimulates friendship, play and learning. The warmth of the inside was extended to the outside play area, which includes a "treehouse", wooden dining settings and old fashioned swing chair. It is the little details at Bluey's such as the original treehouse painting in the foyer, the heritage style room signs and the emphasis on Australian memorabilia that make this project so outstanding. Like in a wonderful home, there is something to capture your interest and imagination in every part of this space. As soon as you step into Bluey's, past the ship's bell and through the main entrance with a hand carved door knob, you feel like you are stepping into an "enchanted home". In fact the Educators are thrilled to be working at Bluey's which comes with their own staff/living room and the parents dropping off their children find it hard to leave.
Interior Design - Public or Institutional
This project for a new childcare centre sensitively inserts new architecture into a former industrial warehouse building, located in the inner west of Sydney.
Interior Design - Residential
Located on the sought after ocean front of NSW's Pearl Beach, what was once an original 1950's stilt cottage with a prior extremely unsympathetic, faux-beach renovation. It was our task to reintroduce some of the 50's character while making the home liveable and comfortable for a family of six. The result is a home that sits comfortably within its 1950's bones while giving a sophisticated, contemporary edge to a casual, comfortable beach retreat.
Interior Design - Retail
As part of a national rebrand designed to celebrate the best of the past by redefining it for the future, Optus Singtel embarked on a redesign of their retail store experience to create the new YES concept. The second-ranked mobile carrier worked with greater group to redefine the customer experience, introducing innovative design, interactive selling tools and communications to deliver an experiential store. As part of a 300 store rollout, George Street is the premier flagship in Sydney.
Landscape Design
One Central Park is an architectural collaboration between Ateliers Jean Nouvel and PTW Architects located in Sydney's downtown. This high profile project on the former Carlton United Brewery site, is the first stage of the Central Park development. One Central Park comprises two residential towers and a lower retail podium addressing the site's Broadway frontage. The built form is veiled by a combination of vertical gardens, designed by Patrick Blanc, as well as green facades for each residence, the planting for which has been developed and delivered by ASPECT | OCULUS. ASPECT | OCULUS were engaged in early 2011 to develop the initial concept designs for the facades, as well the internal residential lobby, ground floor planting, podium garden, sunken courtyard and atrium planting for the retail levels. One Central Park is the largest green facade in Australia with considerable microclimatic challenges. To ensure planting success, the planting design and technical development was tested through a rigorous process. A wind speed and sun/shade analysis was modelled to determine plant suitability for the facades, and light lux levels were recorded to determine hardiest planting for low level light in the lobby and atrium.
Lighting Design
An arcitectural lighting display was required to compliment this fantastic landscape
Marketing - Branded Experience
As part of a national rebrand designed to celebrate the best of the past by redefining it for the future, Optus Singtel embarked on a redesign of their single biggest brand experience touchpoint...their retail stores. The second-ranked mobile carrier worked with greater group to redefine the customer experience, introducing innovative design, interactive selling tools and communications to deliver an experiential store. As part of a 300 store rollout, George Street is the premier flagship in Sydney.
Marketing - Sales Promotion
Taylors is one of Australia's leading premium wine brands. Founded in 1969, it is a highly successful third generation family owned wine business with sales of more than 650,000 cases per annum generated in 30 markets globally. Each year they look to raise the benchmark in their in-store promotions that they offer their key independent retail clients. To help them in-turn excite their own customers and generate increased sales. In 2014 Taylors have launched their most ambitious and impressive programme of consumer 'Chance To Win' promotions to date. The objective of this national programme is to assist Independent liquor stores to differentiate and compete with the large chain stores by providing alternative offerings that do not focus specifically on promotional price. Attractive offers, impressive results!
Product Design - Active Life
Kick it Straight. The Moose Kicking Tee is a completely new way to support ovoid balls for both training and in-game use. The core innovation is to provide space for the foot to kick straight through under the ball. This straight through action delivers incredible accuracy for the ideal penalty goal kick. The drop punt kick is used in many Australian football codes for accurate distance kicking. The Kicking Tee enables the drop punt to be practised, as the tee, in effect, isolates the kicking action. This very straight kicking technique perfected in AFL (Australian Football League) can now be used for better placement goal kicking in both Rugby League and Rugby Union. The orientation and relative positions of the four points of the antlers that make contact with the ball are critical for ball contact and flight. This tee is not similar to other kicking tees because the ball support arrangement and open space beneath is completely unique. The product is now on the market and selling well with very positive feedback from users.
Product Design - Entertainment
In 2008 we set out to create a fully commercial, portable, single operator, Photo Booth aimed at others wanting to emulate our rental business model and to bridge the gap between photos, social media and big brands. The product was designed to provide a better way for people to operate a Photo Booth hire business with less hassle, in less time while also reducing their costs and increasing their profit margins. It was also designed to be customisable and up-gradable while we continually develop more add-ons, upgrades and features, new software and apps and new concepts to help our customers achieve more differentiation and to stand out as leaders in the industry.
Product Design - Industry
The D900+ LED downlight is a versatile low-energy recessed interior downlight that evolves with needs and tastes throughout its 30-year, 70,000-hour lifetime. The D900+ incorporates: • A simple twist-on, twist-off interchangeable fascia system with a range of colours, forms and beam-angling fascias; property owners, architects and interior designers have the freedom to experiment and push the boundaries of current interior lighting trends, and the core lighting unit is prevented from being replaced if styles and tastes change. • A trimless design, providing the option for trimless installation; ideal for minimal projects. • Universal gimballing with a unique reduced-airflow design; allows for tilting 30° in any direction without compromising insulation. • Market-leading brightness and light quality using as little energy as possible; Tru- Colour technology (95+CRI light quality) for vibrant colours, defined details and flattering skin tones, and an efficacy of 61 lumens per Watt. • Exceptional product lifetime and warranty; premium componentry that guarantees light quality and brightness over the product's lifetime.
Product Design - Personal Use
Elevare is an elegant solution to create beautiful legs simply.
Product Design - Personal Use
Silo Mesh Card is the modern multi-tool for your pocket. Keep it in your wallet or let it become your wallet. Crafted from Titanium with scratch-resistant TiCN coating, the Mesh Card is built to last and includes removable silicone band for holding cards and currency. Thin and versatile; this ultra-light wallet is also a Smartphone stand, bottle opener and will even help shield your credit card details from RFID theft.
Product Design - Concept
Jack is a bluetooth speaker individually hand crafted from concrete and wood, giving it a unique combination of raw individuality and increased sound quality.
Product Design - Education
Introducing the Google generation. Where blackboards are replaced by smartboards, the library with online, and information is everywhere. But simply being served up the answer to any question isn't forcing children to use and develop their brain. And that's where technology needs a bit of help. Introducing Mchumba. It's a hands-on learning environment like no other, Using illustrative themes and markers on a wipeable bench, Mchumba is a place where children can withdraw from information overload, and get back to creating. Based on the latest research into cognitive development, Mchumba has been designed to stimulate thinking and expression, teaching children to seek, dream, imagine, reason and create, instead of just absorb; the parts of learning that technology misses. Simply put, it's a cross-trainer for their brain.
Product Design - Furniture Indoor & Outdoor
Fable collection recalls the humble objects familiar to traditional children's tales, and inspired by the idea that a woodsman has simply stepped outside and beautifully hand carved a collection of functional timber items. These hand traditions have been reinterpreted, and designed for modern day function. Machined and crafted from solid oak and with difficult manufacturing details disguised within a super, simplified aesthetic.
Product Design - Home
A hybrid dustpan / lobby pan that fuses the benefits of both items delivering a household cleaning item that cleans quickly, easily and effectively. It is extremely suited to the elderly population where crouching down to clean small areas is eliminated and its space efficient design can be conveniently stored away for later use. At a very affordable cost of less than $15.
Product Design - Home
The Papadum Express, is the world's first Papadum Microwave Cooking Tray! Forget starting the stove, warming the pan, heating the oil, watching over the cooking, frying each papadum one at a time, then all the washing & cleaning! Seriously, who's got time for all that hassle, every-time you feel like a Papadum?! Now, with the Papadum Express you can simply, … Stack, Whack and Serve up-to 10 Papadums fast...in 60 seconds. Crisp n' Crunchy Indian Papadums, Oil Free, Fat Free & Easy-to-Clean! As a 'World's First', our goal was to create an absolute supreme quality Papadum microwave tray, that lived up-to iconic Australian manufacturing standards, in the same way that other unique and great Aussie products have done so in the past. We made it Strong, Durable and Beautiful! World Class, you'll see..
Product Design - Homewares
Kintsugi is a family of solid timber vessels designed to capture the beauty of the materials they celebrate. Oiled timber with soft faced concrete, the materials are united together with a metal inlay in the spirit of the Japanese technique 'Kintsugi' - to mend with gold. The various forms allow the materials to become something new altogether. The concrete loses it's industrial heritage and the timber becomes robust and strong, each taking on a new identity.
Product Design - Medical
Traditional walking sticks have a tendency to fall over easily even when care is taken to find a suitable rest for them. In Many situations it simply is not possible to find a place to rest the stick, which makes attending to simpler tasks such a searching for a wallet, or to lift something from a supermarket shelf difficult. In many instances people in this position expose themselves higher risk for physical injury should they fall over whilst trying to hold onto the walking stick whilst trying to execute what should be a simple task at the same time. Inevitably walking sticks which are rested against some suitable surface will fall over. Having to bend over to retrieve the implement places the user in a position where the risk of falling is markedly increased. The IQStick is a new approach to walking stick design. Using modern lightweight high strength materials, a design emerged for a product that overcomes many of the problems associated with traditional design. An easier to use walking stick will make for a more active life, and a safer one , for many people.
Product Design - Office
Introducing: the original, oh-so-handsome, DeskPal. Carved from a single solid block of timber with classic well proportioned design. DeskPal promises to clean up that workspace while looking sharp and dapper at the same time.
Product Design - Technology
A table is a piece of furniture that encourages human collaboration; people naturally gather around a table for social interaction at work, in leisure activities and at home. At nsquared we have enhanced the table by enabling interactive digital content to appear on the table top. This is undoubtedly the future of all meeting spaces, whether they're designed for learning or selling or business planning. Tables are standard meeting spaces, and a table with the ability to take advantage of the computing power we have available to us on a day to day basis is a powerful tool. The nsquared digitable55 is a table technology that responds to direct human touch and has the ability to connect to other devices. It is a tool that captivates. It is designed to provoke deep curiosity, stimulate creativity, and engender profound connections between people and ideas.
Retail Experience
Clearly is the world's largest online retailer of glasses, sunglasses and contact lenses. Eyewear shopping has historically been a very medical based shopping experience. But our consumer insights research identified that shoppers regard their eyes as one of the most valuable pieces of 'real estate' when it comes to defining their fashion style. With Clearly's first physical store in the southern hemisphere, we were challenged to convert the retail experience from a 'medical' experience to a fun, 'fashion' based experience. Located in the 'Ivy' complex in the Sydney CBD, we were further challenged to create a retail experience that would appeal to both day time office workers and night time revellers. Using visual merchandising in the form a 2.5m metre high rotating mirror ball, a night lights display visible from George Street, a custom scent, and specially commissioned music, the Clearly store has transformed the eyewear shopping experience into a joy. The store has has achieved great media coverage, incredibly positive consumer feedback, and regularly draws crowds of people to the windows who are eager to watch the spectacular night time sound and lights show.
Service - Government
DEATH, DYING and DONATION. This is a difficult subject to broach with Australians. In collaboration with creative digital consultancy Reading Room, the Organ and Tissue Authority are driving a DISCOVER, DECIDE, DISCUSS campaign message through digital, encouraging individuals and families to discover the true facts, make informed decisions, discuss and know family members' organ donation choices. At the same time, Reading Room successfully brought the Authority's own wider identity and matured purpose to the fore, capitalising on the previous success of DonateLife but evolving the message from singular to dual purpose, under the DonateLife domain but with clear connection and ownership by the Authority. With the Authority's annual DonateLife week promotional drive less than 2 months away, Reading Room and the OTA team revitalised the donatelife.gov.au site in record time while building a new digital voice for the wider Organ and Tissue Authority (the force behind the brand) without diluting the impact of the already successful DonateLife campaign branding and message.
Services - Corporate
"In it's first week of trading, this branch has outperformed our No.1 flagship BOQ store on Queen Street Brisbane". PHILIPPA BARTLETT
Services - Not for Profit
Over the last few years, clothing donations have steadily declined, eroding a major source of revenue for DAVIC. The main reasons for the drop in revenue were: 1. The processes for creating pickups were casual and slow and involved manual checking of the routes and identifying dates the pickups can be booked. 2. Their Contact Tracker solution did not integrate with the Telephony softphone. 3. Once the pickups were entered, the Logistics Manager had to manually assign pickups to drivers, which would take approximately 2hrs per day. 4. Drivers spent an hour every day planning out their route. 5. Due to limited reporting, they were not able to analyse or identify the process weaknesses in order to improve the business.
Textile + Surface Design
PANDANAH is a cross cultural (Aboriginal & Pacific Islands) design studio focused on mindful and sustainable design, creative collaboration and culture. Pandanah developed 'The Gumnut collection' a range of surface design and sustainable lifestyle products for the Australian Indigenous Fashion week (AIFW) 2014. The Founders of PANDANAH Nicole Monks - Aboriginal, Dutch & English. PANDANAH was launched through a 'blackandwhite creative' initiative to generate conscious design and cultural awareness by collaborating with Aboriginal & non Aboriginal individuals & organizations. 'My cultural heritage informs my practice, in particular my connection with the land and environment, design futuring is important to my creativity direction' Cara Mancini Geros From Maui, Hawaii, Cara journeyed to Australia to pursue a Masters of Fine Arts at COFA, 2004 followed with a Graphic Design study through Billy Blue College of Design in 2009. International Exhibits include USA, Mexico, Sth America, China and Australia. "My art explores the common threads connecting our vast cultures, traditions and experiences within this modern world. I hope to spark a feeling of interconnectedness between my viewers acknowledging the importance of our environment and culture and how we can help them flourish"
Urban Design
Not simply a new development but an entirely new suburb. At less than 30 minutes south-west of the CBD with quick and easy access to the M5 Motorway or rail, Washington Park is widely considered by experts to be one of Sydney's next property hotspots. The development sold out in six weeks across three stages (539 apartments in total).
Wayfinding
The Royal North Shore Hospital is one of Sydney's oldest research, healing, trauma and teaching hospitals. The year 2009 marked the beginning of a huge redevelopment, a unique combination of private and public funding brought together under one consortium. BVN Donovan Hill architects designed the Acute Services Building, winning the bid with a design that used three colours. One building was going to replace the disjointed departmental campus scattered about in old buildings. Visitors, patients and staff were excited about this new facility but at the same time, apprehensive about its massive scale and size. The old and established circulation pathways to wards or departments were going to change dramatically. This was an enormous change for the campus and an enormous three year wayfinding challenge for us.
2014 Presentation
Photo Gallery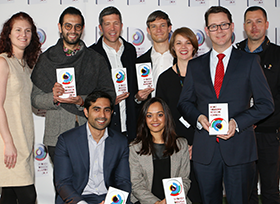 Don't forget to tag yourself, friends and colleges in the photos.
Best Of Categories
All entries submitted are automatically eligible for the relevant "Best of" category.