Product Design - Personal Use
This award celebrates creative and innovative design for either a component or overall product. Consideration given to aspects that relate to human usage, aesthetics, selection of components and materials, and the resolution of assembly, manufacturing and the overall function.
Nominations in Category
Product Design - Personal Use
Silo Mesh Card is the modern multi-tool for your pocket. Keep it in your wallet or let it become your wallet. Crafted from Titanium with scratch-resistant TiCN coating, the Mesh Card is built to last and includes removable silicone band for holding cards and currency. Thin and versatile; this ultra-light wallet is also a Smartphone stand, bottle opener and will even help shield your credit card details from RFID theft.
Product Design - Personal Use
Elevare is an elegant solution to create beautiful legs simply.
Product Design - Personal Use

The Farrah wallet is a piece of "life equipment" a product that is designed for everyday life and made to last a lifetime. It explores the way in which materials can interact, allowing the base material to solve more of the design problem through manipulation rather than machining or changing the core characteristics of the base material, leather.
Product Design - Personal Use

Innovation, shape, elegance… With the perfect blend of form and function, the ShavEzy foot stool delivers an ergonomic solution to a struggle that women have had for years. Shaving legs just got easier and a whole lot safer. The quote below sums up our approach to the design process "Design should not dominate things, Not dominate people, it should help people." Dieter Rams
2014 Presentation
Photo Gallery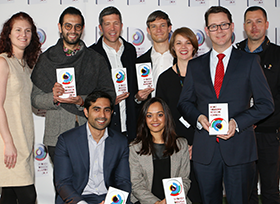 Don't forget to tag yourself, friends and colleges in the photos.
Best Of Categories
All entries submitted are automatically eligible for the relevant "Best of" category.