Advertising - Print
This award celebrates creative and innovative design for visual communication intended to persuade an audience to purchase or take some action upon products, ideas or services. Consideration given to the technical, conceptual and aesthetic elements, audience engagement and message delivery.
Nominations in Category
Advertising - Print
Moonlight Cinema is an outdoor cinema operating from December to March in Sydney, Melbourne, Adelaide, Perth and Brisbane. Moonlight wanted to refresh its brand identity for its summer 2013/14 season in order to position itself as a must-do on summer's entertainment calendar. More than just an 'outdoor cinema', Moonlight is an event with a festival-like atmosphere, a unique experience including social, entertainment and food and beverage components. The aim of the 2013/14 season advertising artwork was to market Moonlight Cinema as a fun and festive event, to excite audiences and encourage them to purchase tickets in advance, as they would for a popular summer music festival.
2014 Presentation
Photo Gallery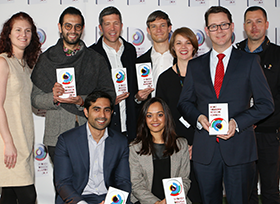 Don't forget to tag yourself, friends and colleges in the photos.
Best Of Categories
All entries submitted are automatically eligible for the relevant "Best of" category.