Interior Design - Hospitality
This award celebrates innovative and creative building interiors, with consideration given to space creation and planning, furnishings, finishes, aesthetic presentation and functionality. Consideration also given to space allocation, traffic flow, building services, lighting, fixtures, flooring, colours, furnishings and surface finishes.
Nominations in Category
Interior Design - Hospitality
The Athenaeum Hotel & Residences is one London's most iconic hotels. Its great history includes legendary associations with Hollywood, with former guests including Elizabeth Taylor, Marlon Brando, Shirley Maclaine and Steven Spielberg, Cary Grant, John Wayne and Russell Crowe. Leading British design studio Kinnersley Kent Design has transformed the hotel's public spaces, including its bar and restaurant, which were created in partnership with Michelin-starred chefs Chris and Jeff Galvin. The redesign celebrates The Athenaeum's individuality and brings its unique personality to the fore. The design is playful and geometric, but not overly symmetrical – referencing the hotel's art deco roots but with a thoroughly contemporary sensibility. Wallpaper Magazine says "its sparkle has now been reignited" thanks to the redesign, while The Telegraph has asked, "is this London's swankiest hotel makeover?"
Interior Design - Hospitality
When The George Hotel, Edinburgh was acquired by the client, Goddard Littlefair was appointed to refurbish the whole hotel, with the new bar and restaurant (named 'The Printing Press' in reference to one of the activities previously undertaken on the site) forming the central, destination attraction. The new, 92-cover, 186 sq m bar, plus a 116-cover, 207 sq m restaurant, under the direction of chef-restaurateur Des McDonald, with a grill-brasserie feel, was designed to offer maximum adaptability in order to attract day and night-time visitors with the full impact of a destination space.
Interior Design - Hospitality
'Once one of Britain's great Victorian railway hotels, the five-storey, four-star, 159-bedroomed Royal York has been beautifully revamped, thanks to a £15million makeover that has not only restored former glories, but created one of the city's finest and most impressive places to down bags.' (The Telegraph) 'Stepping through the doors, you enter a world where classic and contemporary combine to impressive effect. Even as you're being wowed by the period architectural features – decorative pillars, dramatic arches and, most of all, the magnificent cast-iron staircase at the heart of the hotel – you're simultaneously soothed by the elegant, subdued colour scheme of soft greys, tans and off whites. High quality materials provide a feeling of luxe, while quirky finishing touches supply interest and character.' (Destination Capita Travel and Events Magazine)
Interior Design - Hospitality
Hilton Bankside is a design driven hotel, with a unique industrial ethos. Hilton London Bankside gives a nod to the past, present and future of its evolving location. Responding to the urban, river side surroundings, where refinement and grittiness walk hand in hand, nostalgic details are complimented by contemporary simplicity. The shadowing presence of London's Tate Modern provides a positive artistic influence to many aspects of the design narrative. This is a 292 guestrooms hotel, with full facilities of a Lobby, Bar, Restaurant, Executive Lounge, Meeting Rooms, Ballroom plus extensive spa and fitness facilities.
Interior Design - Hospitality
The DoubleTree by Hilton Hotel Liverpool is a unique hotel, linking two listed buildings and a new build together to form a unique 87 bedroom hotel. This approach provided truly individual spaces which celebrate the building's heritage, but which function successfully as part of a busy city hotel. The hotel incorporates all the key facilities that the DoubleTree by Hilton brand requires as well as an impressive spa.
Interior Design - Hospitality
This hotel displays a unique design quality that relates not only to the site itself but also to the brand it represents. The creative thread running through the building is at times humorous and constantly challenges the norm of hospitality environments. This new hotel captures an atmosphere that is fresh, playful and inspired by the British seaside. The hotel is a new build property on tight sloping site in the heart of Bournemouth, that holds the all the key facilities that the Hilton brand promises to offer. The top-floor bar with panoramic views provides a key destination to not only the hotel guests but also locals allowing them to celebrate their city.
Interior Design - Hospitality
The Mercedes-Benz Living @ Fraser serviced residences within the Fraser Suites Kensington in London have been conceived as a translation of Mercedes-Benz's expertise in cutting-edge design, innovative technologies and state-of-the-art manufacturing into a luxury hospitality experience. JOI-Design's concept adheres to the Mercedes-Benz design philosophy of 'sensual purity' whilst pushing the boundaries of conventional furnishings to create something new. Sensual surfaces and clean lines combine with intelligent functionality, fashioning a perfectly conceived world of modern luxury that promotes wellbeing and relaxation.


Past Nominations
2016 Presentation
Photo Gallery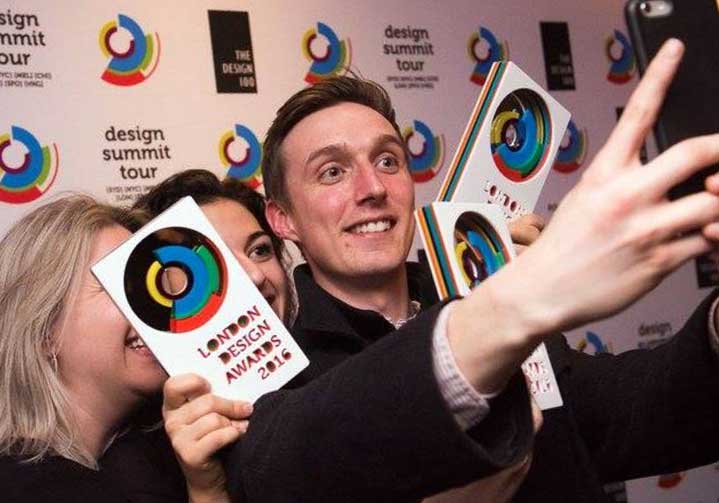 Don't forget to tag yourself, friends and colleges in the photos.