Awards Nominations
Digital Experience - Website
The YMCA NSW (the Y) is a not-for-profit charity that operates in more than 40 communities across NSW. Through the core divisions of Recreation, Camping and Children's Services, the Y offers a range of programs that focus on bringing families together, healthy living, developing young people and helping those less fortunate. The new responsive YMCA website was launched in December 2013 after a four month project period, with a focus on encompassing the core divisions. Key features of this project include: - A full overhaul of the existing information architecture and primary navigation via a comprehensive planning process - Brand new site design with up to 20 templates for three different breakpoints (desktop, tablet and mobile – 60 templates total) - A new, fully-responsive website designed to work across desktop, tablet and mobile - Up to 40+ individual centre microsites within the main YMCA site where the look and feel can be customised with centre colours all managed within the same back-end. - Supports publishing of commonly shared information between microsites - Integrated location services to help users effortlessly find their perfect centre - Tailored centre directory that supports scalability.
2014 Presentation
Photo Gallery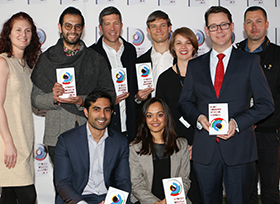 Don't forget to tag yourself, friends and colleges in the photos.
Best Of Categories
All entries submitted are automatically eligible for the relevant "Best of" category.