Interior Design - Hospitality
This award celebrates innovative and creative building interiors, with consideration given to space creation and planning, furnishings, finishes, aesthetic presentation and functionality. Consideration also given to space allocation, traffic flow, building services, lighting, fixtures, flooring, colours, furnishings and surface finishes.
Nominations in Category
Interior Design - Hospitality
THE QANTAS HONG KONG LOUNGE is the evolution of the regional luxe lounge concept developed originally by the SUMU / CAON design team for the Qantas Singapore Lounge. Qantas' brief to SUMU DESIGN and CAON STUDIO was to reflect a new boutique style concept representing Hong Kong through its design, and taking cues from the design developed for the Qantas Singapore Lounge.
Interior Design - Hospitality

The projected required a creative solution which satisfied the requirements of all 3 clients; Sydney Airport, Coopers Beer & Emirates Retail Leisure Australia. Originally boarding gate lounge area which was separated into 2 tenancies at the end of a typical airport white space within the Virgin Terminal. The brief was to design a Hudsons Coffee and a Coopers Ale House Bar within those tenancies which complimented the terminal space & provided the correct brand presence to attract & hold customers.
Interior Design - Hospitality

Our brief from Canberra Airport (which is privately owned) & Emirates Retail Leisure (Australia) was basically 'WOW' us and create a Jewel for their new terminal building & central atrium space... so we set about certainly to do that. "LIMESTONE" takes its name from Canberra's origins – as the city is built on what was formerly the 'limestone plains'. The aim was also to showcase the 'local' element which has also been incorporated into every aspect of the bar; from fit-out to food and beverage menu, with an aim of celebrating the excellence of local foods and wines.
Interior Design - Hospitality

To create authenticity in the design of a Japanese restaurant, one MUST experience Japan. Vanessa Cullen, M.D of Forward Thinking Design, drew upon her years studying Jujitsu, and her time spent in Japan, to create the sophisticated depth of symbolism and emotion that characterises Niji Restaurant in Double Bay.
Interior Design - Hospitality

With an identity influenced by equal parts Melbourne and Barcelona, the design of MoVida Sydney references both whilst preserving a fun, informal and theatrical setting. The brief was to deliver and evolve the MoVida experience and warmly welcome Sydney-siders into the MoVida family.
2014 Presentation
Photo Gallery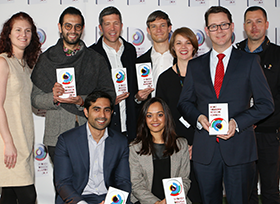 Don't forget to tag yourself, friends and colleges in the photos.
Best Of Categories
All entries submitted are automatically eligible for the relevant "Best of" category.