Product Design - Technology
This award celebrates creative and innovative design for either a component or overall product. Consideration given to aspects that relate to human usage, aesthetics, selection of components and materials, and the resolution of assembly, manufacturing and the overall function.
Nominations in Category
Product Design - Technology
A table is a piece of furniture that encourages human collaboration; people naturally gather around a table for social interaction at work, in leisure activities and at home. At nsquared we have enhanced the table by enabling interactive digital content to appear on the table top. This is undoubtedly the future of all meeting spaces, whether they're designed for learning or selling or business planning. Tables are standard meeting spaces, and a table with the ability to take advantage of the computing power we have available to us on a day to day basis is a powerful tool. The nsquared digitable55 is a table technology that responds to direct human touch and has the ability to connect to other devices. It is a tool that captivates. It is designed to provoke deep curiosity, stimulate creativity, and engender profound connections between people and ideas.
2014 Presentation
Photo Gallery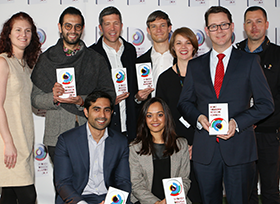 Don't forget to tag yourself, friends and colleges in the photos.
Best Of Categories
All entries submitted are automatically eligible for the relevant "Best of" category.