Product Design - Homewares
This award celebrates creative and innovative design for either a component or overall product. Consideration given to aspects that relate to human usage, aesthetics, selection of components and materials, and the resolution of assembly, manufacturing and the overall function.
Nominations in Category
Product Design - Homewares
Kintsugi is a family of solid timber vessels designed to capture the beauty of the materials they celebrate. Oiled timber with soft faced concrete, the materials are united together with a metal inlay in the spirit of the Japanese technique 'Kintsugi' - to mend with gold. The various forms allow the materials to become something new altogether. The concrete loses it's industrial heritage and the timber becomes robust and strong, each taking on a new identity.
Product Design - Homewares

Our product selection for the mid year trade shows and the months leading up to Christmas.
2014 Presentation
Photo Gallery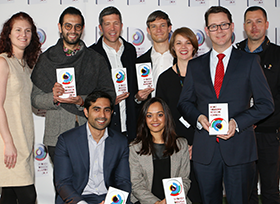 Don't forget to tag yourself, friends and colleges in the photos.
Best Of Categories
All entries submitted are automatically eligible for the relevant "Best of" category.