Product Design - Furniture Indoor & Outdoor
This award celebrates creative and innovative design for either a component or overall product. Consideration given to aspects that relate to human usage, aesthetics, selection of components and materials, and the resolution of assembly, manufacturing and the overall function.
Nominations in Category
Product Design - Furniture Indoor & Outdoor
Fable collection recalls the humble objects familiar to traditional children's tales, and inspired by the idea that a woodsman has simply stepped outside and beautifully hand carved a collection of functional timber items. These hand traditions have been reinterpreted, and designed for modern day function. Machined and crafted from solid oak and with difficult manufacturing details disguised within a super, simplified aesthetic.
Product Design - Furniture Indoor & Outdoor

I had seen the need for a designer range of outdoor furniture that would be hardwearing enough to stand up to all elements of the Australian outdoors. Originally adopted and described as "Coastal rustic," Chris Knight Designs "Swell Sun Lounge" offers a statement design of coastal style mixed with rustic timber features suitable for all Australian Outdoor lifestyles. Clever use of the recycled plastic and Australian hardwood materials guarantees an extended life of the furniture. The sleek design, durability and ingenuity of this Sun lounge rocking chair is the driving force and inspiration for my Outdoor Furniture range.
Product Design - Furniture Indoor & Outdoor

While bicycle use is growing exponentially worldwide, stylish people should have an equally stylish place to park their bikes in ZEPHYR. ZEPHYR is an alternative, sophisticated and functional solution to the standard 'just a bent piece of pipe' bike parking facility.
2014 Presentation
Photo Gallery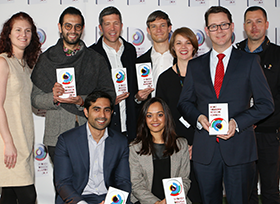 Don't forget to tag yourself, friends and colleges in the photos.
Best Of Categories
All entries submitted are automatically eligible for the relevant "Best of" category.