Product Design - Education
This award celebrates creative and innovative design for either a component or overall product. Consideration given to aspects that relate to human usage, aesthetics, selection of components and materials, and the resolution of assembly, manufacturing and the overall function.
Nominations in Category
Product Design - Education
Introducing the Google generation. Where blackboards are replaced by smartboards, the library with online, and information is everywhere. But simply being served up the answer to any question isn't forcing children to use and develop their brain. And that's where technology needs a bit of help. Introducing Mchumba. It's a hands-on learning environment like no other, Using illustrative themes and markers on a wipeable bench, Mchumba is a place where children can withdraw from information overload, and get back to creating. Based on the latest research into cognitive development, Mchumba has been designed to stimulate thinking and expression, teaching children to seek, dream, imagine, reason and create, instead of just absorb; the parts of learning that technology misses. Simply put, it's a cross-trainer for their brain.
2014 Presentation
Photo Gallery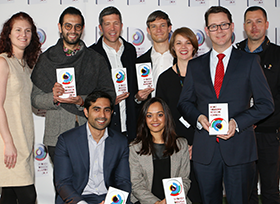 Don't forget to tag yourself, friends and colleges in the photos.
Best Of Categories
All entries submitted are automatically eligible for the relevant "Best of" category.