Product Design - Entertainment
This award celebrates creative and innovative design for either a component or overall product. Consideration given to aspects that relate to human usage, aesthetics, selection of components and materials, and the resolution of assembly, manufacturing and the overall function.
Nominations in Category
Product Design - Entertainment
In 2008 we set out to create a fully commercial, portable, single operator, Photo Booth aimed at others wanting to emulate our rental business model and to bridge the gap between photos, social media and big brands. The product was designed to provide a better way for people to operate a Photo Booth hire business with less hassle, in less time while also reducing their costs and increasing their profit margins. It was also designed to be customisable and up-gradable while we continually develop more add-ons, upgrades and features, new software and apps and new concepts to help our customers achieve more differentiation and to stand out as leaders in the industry.
Product Design - Entertainment
The Kyron Audio Kronos is an extreme-fidelity music reproduction system. Removing the speaker enclosure has allowed for an increase in sound quality and the ability to create a unique and beautiful form that is in itself an artistic expression. Kronos integrates the loudspeakers, amplifiers and preamplifiers into a synergistic system to create a plug and play home stereo experience unlike any other for the ears, eyes and soul.
2014 Presentation
Photo Gallery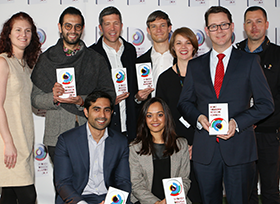 Don't forget to tag yourself, friends and colleges in the photos.
Best Of Categories
All entries submitted are automatically eligible for the relevant "Best of" category.