Product Design - Active Life
This award celebrates creative and innovative design for either a component or overall product. Consideration given to aspects that relate to human usage, aesthetics, selection of components and materials, and the resolution of assembly, manufacturing and the overall function.
Nominations in Category
Product Design - Active Life
Kick it Straight. The Moose Kicking Tee is a completely new way to support ovoid balls for both training and in-game use. The core innovation is to provide space for the foot to kick straight through under the ball. This straight through action delivers incredible accuracy for the ideal penalty goal kick. The drop punt kick is used in many Australian football codes for accurate distance kicking. The Kicking Tee enables the drop punt to be practised, as the tee, in effect, isolates the kicking action. This very straight kicking technique perfected in AFL (Australian Football League) can now be used for better placement goal kicking in both Rugby League and Rugby Union. The orientation and relative positions of the four points of the antlers that make contact with the ball are critical for ball contact and flight. This tee is not similar to other kicking tees because the ball support arrangement and open space beneath is completely unique. The product is now on the market and selling well with very positive feedback from users.
2014 Presentation
Photo Gallery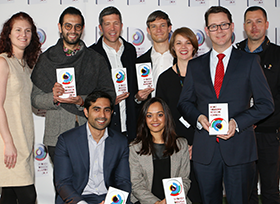 Don't forget to tag yourself, friends and colleges in the photos.
Best Of Categories
All entries submitted are automatically eligible for the relevant "Best of" category.