Wayfinding
This award celebrates creative and innovative design in the ways people orient themselves in physical space, and navigate from place to place. Consideration given to signage and other graphic communication, clues in the building's spatial grammar, logical space planning, audible communication, tactile elements and provision for special-needs users.
Nominations in Category
Wayfinding

The Hermitage is a master planned residential community in South-western Sydney's Camden Hills and the first planned community for Sekisui House in Australia. The Sekisui House development is committed to sustainable design and the ethos of creating homes that can grow and adapt with generations of users. Sekisui aims to work towards improving social, economic and residential values of the homes and the communities that they create. The precinct will eventually contain 1800 premium home sites along with commercial and education facilities set in 120 hectares of golf course and over 26 hectares of open parklands. The landscape conceived by Hassell is based on design principles that reflect Sekisui's vision including encouraging access to nature, respecting the existing qualities of the site, utilizing the landform as a definer and conserve and enhance natural ecosystems and associated processes. The parklands contain mature trees, revitalized waterways and 10 kilometres of cycle ways and shared pathways that link across the site to form wildlife corridors.
Wayfinding

Urbanite designed an integrated signage, wayfinding and environmental branding system for the newly-launched redevelopment of Qantas HQ in Sydney's Mascot.
Wayfinding

One of the latest buildings defining Sydney's skyline, ANZ's NSW head office (known as ANZ Tower, Sydney) occupies twenty floors of the forty-two-storey tower. Home to more than 2000 staff, the space represented a significant opportunity to consolidate ANZ's various business units into the one building and promote a kinetic workplace, where staff are free to move about the building. Interior designers Hassell, strived to strengthen connection and flexibility through the use of multiple three-storey pocket atriums within the central core of the building, creating visibility across multiple floors and promoting staff connection with one another. ANZ Tower represents an innovative shift in the financial services industry, allowing staff to work flexibly through offering worksetting options and intertwining communal zones within meeting spaces. Social neighborhoods are formed at level change locations and a central stair forms a heart flowing through the core of the building, prompting interaction and allowing for multiple spaces where the right worksetting can be chosen for the right task. The interior spaces aim to reflect the values and identity of ANZ, creating a cohesive work environment that communicates the idea of a unified ANZ team.
Wayfinding
The Royal North Shore Hospital is one of Sydney's oldest research, healing, trauma and teaching hospitals. The year 2009 marked the beginning of a huge redevelopment, a unique combination of private and public funding brought together under one consortium. BVN Donovan Hill architects designed the Acute Services Building, winning the bid with a design that used three colours. One building was going to replace the disjointed departmental campus scattered about in old buildings. Visitors, patients and staff were excited about this new facility but at the same time, apprehensive about its massive scale and size. The old and established circulation pathways to wards or departments were going to change dramatically. This was an enormous change for the campus and an enormous three year wayfinding challenge for us.
2014 Presentation
Photo Gallery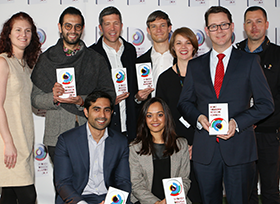 Don't forget to tag yourself, friends and colleges in the photos.
Best Of Categories
All entries submitted are automatically eligible for the relevant "Best of" category.