Textile + Surface Design
This award celebrates creative and innovative design in printed, knitted, woven, surface pattern and illustration for cloth, fabric or structural material and surface design applications. Consideration given to the technical aspects of production, visual aesthetics, and relationship to end product and use.
Nominations in Category
Textile + Surface Design
PANDANAH is a cross cultural (Aboriginal & Pacific Islands) design studio focused on mindful and sustainable design, creative collaboration and culture. Pandanah developed 'The Gumnut collection' a range of surface design and sustainable lifestyle products for the Australian Indigenous Fashion week (AIFW) 2014. The Founders of PANDANAH Nicole Monks - Aboriginal, Dutch & English. PANDANAH was launched through a 'blackandwhite creative' initiative to generate conscious design and cultural awareness by collaborating with Aboriginal & non Aboriginal individuals & organizations. 'My cultural heritage informs my practice, in particular my connection with the land and environment, design futuring is important to my creativity direction' Cara Mancini Geros From Maui, Hawaii, Cara journeyed to Australia to pursue a Masters of Fine Arts at COFA, 2004 followed with a Graphic Design study through Billy Blue College of Design in 2009. International Exhibits include USA, Mexico, Sth America, China and Australia. "My art explores the common threads connecting our vast cultures, traditions and experiences within this modern world. I hope to spark a feeling of interconnectedness between my viewers acknowledging the importance of our environment and culture and how we can help them flourish"
2014 Presentation
Photo Gallery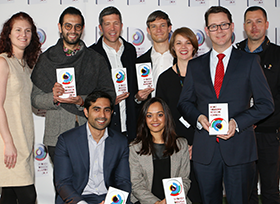 Don't forget to tag yourself, friends and colleges in the photos.
Best Of Categories
All entries submitted are automatically eligible for the relevant "Best of" category.