Services - Not for Profit
This award celebrates creative and innovative solution design for the successful delivery and provision of services. Consideration given to system integration, user experience, product design
Nominations in Category
Services - Not for Profit
Over the last few years, clothing donations have steadily declined, eroding a major source of revenue for DAVIC. The main reasons for the drop in revenue were: 1. The processes for creating pickups were casual and slow and involved manual checking of the routes and identifying dates the pickups can be booked. 2. Their Contact Tracker solution did not integrate with the Telephony softphone. 3. Once the pickups were entered, the Logistics Manager had to manually assign pickups to drivers, which would take approximately 2hrs per day. 4. Drivers spent an hour every day planning out their route. 5. Due to limited reporting, they were not able to analyse or identify the process weaknesses in order to improve the business.
Services - Not for Profit

SASA (Sino Australian Seniors Association) brings together the resources and people power to provide services and opportunities that enhances the quality of life and wellbeing of Chinese Australian seniors. We endeavour to enrich the daily life of Chinese seniors who live in Sydney, through social activities to promote a healthy, active and social lifestyle. SASA provides recreational & leisure activities, event participation, health seminars and Tai Chi classes.
2014 Presentation
Photo Gallery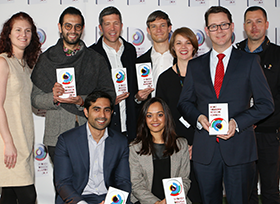 Don't forget to tag yourself, friends and colleges in the photos.
Best Of Categories
All entries submitted are automatically eligible for the relevant "Best of" category.