Service - Government
This award celebrates creative and innovative solution design for the successful delivery and provision of services. Consideration given to system integration, user experience, product design
Nominations in Category
Service - Government
DEATH, DYING and DONATION. This is a difficult subject to broach with Australians. In collaboration with creative digital consultancy Reading Room, the Organ and Tissue Authority are driving a DISCOVER, DECIDE, DISCUSS campaign message through digital, encouraging individuals and families to discover the true facts, make informed decisions, discuss and know family members' organ donation choices. At the same time, Reading Room successfully brought the Authority's own wider identity and matured purpose to the fore, capitalising on the previous success of DonateLife but evolving the message from singular to dual purpose, under the DonateLife domain but with clear connection and ownership by the Authority. With the Authority's annual DonateLife week promotional drive less than 2 months away, Reading Room and the OTA team revitalised the donatelife.gov.au site in record time while building a new digital voice for the wider Organ and Tissue Authority (the force behind the brand) without diluting the impact of the already successful DonateLife campaign branding and message.
Service - Government

Bringing the story of Sydney's water supply alive was the overall goal for the project. The former SCA website was arid. Our early research highlighted information was hard to find, users were frustrated and lost in a website architecture which served up an internal organisational perspective. The new site needed to connect with the broad interests of Sydney residents and answer the very specific needs of our key users. The new architecture aims to connect our time-poor stakeholders quickly with what they need. We also wanted to tempt users to explore a little more, sharing with them the fascinating world of water (we already knew they were thirsty for knowledge…each time Warragamba Dam spills after rain, we can have up to 75,000 web visitors a day). Data became the centrepiece – interactive and visual – answering answer information needs. This new website takes a user-centred approach to deliver the results we were looking for: to focus on our users and community and their online tasks and goals; create immersive experiences; open up access to our data; offer better quality information and improved online services to address the needs of each audience group.
Service - Government

Imagine being able to walk into a government service centre, be greeted by a concierge then register a birth, log a request for a new driving license and renew their national park pass, without having to speak to three different sets of people. Or, call a single phone number which is answered by a real person, 24x7, to deal with any government related enquiry you have, or go to a single website where it is easy to find what you are looking for based on what you need to get done. All of this is now a reality with Service NSW, brought to you by the NSW government in collaboration with The Customer Experience Company.
Service - Government

The NSW Police Recruitment website provides information to people interested in a career in the NSW Police Force. It also features an interactive eligibility quiz to determine whether potential applicants are suited to the job.
Service - Government

Provide the most trusted information, in the most accessible way.
Service - Government
The NSW Small Business Commissioner website was developed to help small businesses in NSW to operate as professionally, efficiently and successfully as they can.
2014 Presentation
Photo Gallery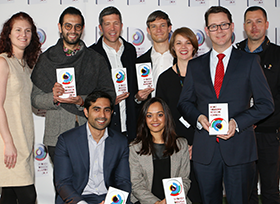 Don't forget to tag yourself, friends and colleges in the photos.
Best Of Categories
All entries submitted are automatically eligible for the relevant "Best of" category.