Product Design - Medical
This award celebrates creative and innovative design for either a component or overall product. Consideration given to aspects that relate to human usage, aesthetics, selection of components and materials, and the resolution of assembly, manufacturing and the overall function.
Nominations in Category
Product Design - Medical
Traditional walking sticks have a tendency to fall over easily even when care is taken to find a suitable rest for them. In Many situations it simply is not possible to find a place to rest the stick, which makes attending to simpler tasks such a searching for a wallet, or to lift something from a supermarket shelf difficult. In many instances people in this position expose themselves higher risk for physical injury should they fall over whilst trying to hold onto the walking stick whilst trying to execute what should be a simple task at the same time. Inevitably walking sticks which are rested against some suitable surface will fall over. Having to bend over to retrieve the implement places the user in a position where the risk of falling is markedly increased. The IQStick is a new approach to walking stick design. Using modern lightweight high strength materials, a design emerged for a product that overcomes many of the problems associated with traditional design. An easier to use walking stick will make for a more active life, and a safer one , for many people.
2014 Presentation
Photo Gallery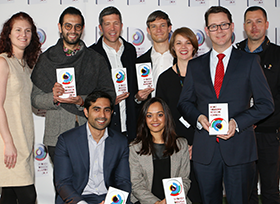 Don't forget to tag yourself, friends and colleges in the photos.
Best Of Categories
All entries submitted are automatically eligible for the relevant "Best of" category.