Product Design - Industry
This award celebrates creative and innovative design for either a component or overall product. Consideration given to aspects that relate to human usage, aesthetics, selection of components and materials, and the resolution of assembly, manufacturing and the overall function.
Nominations in Category
Product Design - Industry
The D900+ LED downlight is a versatile low-energy recessed interior downlight that evolves with needs and tastes throughout its 30-year, 70,000-hour lifetime. The D900+ incorporates: • A simple twist-on, twist-off interchangeable fascia system with a range of colours, forms and beam-angling fascias; property owners, architects and interior designers have the freedom to experiment and push the boundaries of current interior lighting trends, and the core lighting unit is prevented from being replaced if styles and tastes change. • A trimless design, providing the option for trimless installation; ideal for minimal projects. • Universal gimballing with a unique reduced-airflow design; allows for tilting 30° in any direction without compromising insulation. • Market-leading brightness and light quality using as little energy as possible; Tru- Colour technology (95+CRI light quality) for vibrant colours, defined details and flattering skin tones, and an efficacy of 61 lumens per Watt. • Exceptional product lifetime and warranty; premium componentry that guarantees light quality and brightness over the product's lifetime.
Product Design - Industry

I have created the worlds rarest and most expensive cocktail shaking machine from a 200 year old Victorian line drawing. It now stands six feet tall, made of cast iron, silver plate and solid brass. 4 copper based cocktail shakers in the shape of WW2 Spitfire Armour Piercing Shells adorn the top of it. Will be featured on the FRONT COVER of USA's leading billionaire catalogue "Neiman Marcus", this Christmas 2014.
2014 Presentation
Photo Gallery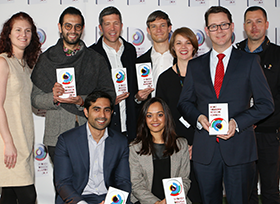 Don't forget to tag yourself, friends and colleges in the photos.
Best Of Categories
All entries submitted are automatically eligible for the relevant "Best of" category.